Partnerships for Coating and Casting of Specialty Medical Film Products
For over 100 years, Carestream has been a leading provider of high-quality medical imaging films. We capitalize on the same technologies, manufacturing equipment and expertise to help our partners produce a wide range of specialty medical films and products. Our simultaneous, multilayer coating and casting processes utilize advanced methods, backed by 100% automated in-line film quality inspection systems, extensive analytical testing and clean room practices, to meet stringent FDA and ISO standards. We also deliver significant process development advantages — providing partners with project-ready coating and manufacturing facilities in the United States to develop demanding, precision-coated structures.
Carestream actively seeks growth partnerships combining customer product IP and market channels with our high-speed roll-to-roll processing, quality systems and worldwide presence to bring new products through commercialization quickly and efficiently at reduced manufacturing cost. Partners, whether joint development, manufacturing partnership or full joint venture, leverage this process expertise along with our product development know-how to bring new and improved products to the healthcare industry – from advanced wound care materials and diagnostic test strips to films for highly selective medical membranes.
Medical Coating and Casting Capabilities:
Precision casting
FDA/ISO certified systems
Clean room
Primed PET film substrates for diagnostic tests
Process Development Advantages:
Lab, pilot and production coaters available to scale-up solution-coated products
Understanding of the complex variables and stringent quality guidelines required for medical and pharmaceutical products
Relationships with substrate/chemical suppliers
Streamlined validations because Installation (IQ), Operational (OQ), and Performance (PQ) Qualification methodology is well understood and routinely practiced
Ongoing manufacturing is performed in ISO 9001 or ISO 13485 certified operations
Custom Medical Film Product Expertise:
Diagnostic test strips
Coated films or membranes constructed on release liners for advanced wound care including solution-coated PU films
Hydrophobic and hydrophilic coatings
Barrier coatings for packaging
Anti-microbial coatings
Solution cast films for optical applications and precision filtration media
Carestream Medical Coating and Casting Resources:
Carestream Medical Film Datasheet: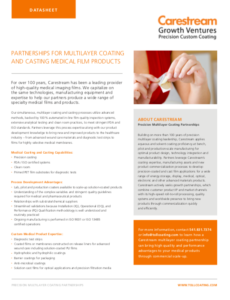 Contact Brian Pahl to learn how a Carestream multilayer coating partnership can bring high quality and performance advantages to your medical products through commercial scale-up.