Carestream Precision Multilayer Coating and Manufacturing Partnerships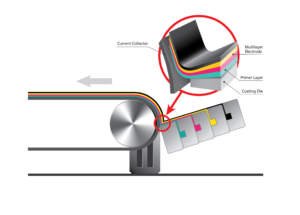 With a history of innovation in precision multilayer coating technology spanning over 100 years, Carestream applies our aqueous and solvent coating proficiency at bench, pilot and production-scale manufacturing for optimal product design, technology integration and manufacturability. Partners leverage our coating expertise, manufacturing assets and new product commercialization processes to develop precision-coated and cast film applications for a wide range of energy storage, display, medical, optical, electronic and other advanced materials products.
Our multilayer coating approach delivers process development advantages that can dramatically improve performance and reduce cost by allowing additional layers to be coated in one pass through the coating machine – enabling manufacturing partnerships that bring disruptive products to market. It also provides the design freedom to improve product performance with additional layers, and allows higher line speeds for reduced manufacturing cost.
We actively seek growth partnerships combining customer product IP and market channels with our high-speed roll-to-roll processing, quality systems and worldwide presence to bring new products through commercialization quickly and efficiently. Partnership agreements include joint development, manufacturing partnership or full joint venture. The benefits of a Carestream partnership include:
Rigorous product and process development eliminates technical and regulatory roadblocks for faster time to market.
Multilayer coating techniques enable slide coating of up to 10 layers simultaneously to deliver lower waste and higher productivity resulting in reduced costs, higher margins and greater market share opportunities.
Global supply chain management maximizes value for reliable product flow, qualified vendors and satisfied customers.
Backed by exceptional Lean Six Sigma manufacturing practices, our engineers apply deep knowledge and unique analytical capabilities to identify and develop optimal coating solutions to meet partnership requirements, with planning, logistics, finance and purchasing competencies available. Contact us today to learn how a Carestream multilayer coating partnership can increase your product development, scale-up and commercialization success.