Process Development Innovation Enables Higher Performance at Reduced Cost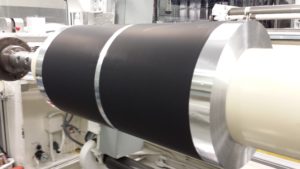 Carestream multilayer coating partnerships leverage our aqueous and solvent coating expertise at bench, pilot and production scale for optimal product design, technology integration and manufacturability. Our engineers apply unique processing knowledge and analytical capabilities to help partners apply precision multilayer coating constructions on flexible substrates for applications including energy storage, display, medical, optical, electronic and beyond.
We deliver a full supply-chain solution to move advanced technology products from benchtop to production. Our facilities offer multiple advanced, precision coating capabilities and assets, plus the full support of Carestream planning, logistics, finance and purchasing competencies available. Converting and packaging for roll and sheet goods with slitting and chopping capabilities are also available under the same roof.
Our lab, pilot, and production-scale assets deliver operational excellence, including dynamic coating development and prototyping, as well as pilot-scale roll-to-roll process development. We also adhere to exceptional standards of Lean Six Sigma manufacturing practices, quality and ISO certification, and GMP (Good Manufacturing Practices).
Read our process development case studies below to find out more about our processing innovation, or contact us to learn how a Carestream partnership can help you achieve higher product performance at reduced cost.
Quantum Dot Film Case Study
Collaborative Success to Quickly Balance Chemistry and New Processes
Challenge:
Assess participation in emerging quantum dot film market for improved display color gamut.
Develop chemistry expertise and new processes required for the quantum dot film market.
Solution:
Partnered with leading materials supplier to co-develop a new film solution.
Collaborated closely with the partner to iterate on potential process and chemistry solutions.
Provided partner with formulation requirements to enable low-cost manufacturing.
Implemented new coating, laminating and inerting processes to support development.
Results:
Developed a process that delivered prototypes meeting product specifications.
Rapidly designed, built and installed multiple processes in a three-month period.
Rapid Prototype Case Study
Rapid Development of Low Cost, High Quality Prototypes for Market Development
Challenge: 
A product required large format coating to produce customer samples.
The pilot coater was too narrow to meet format requirements and the production coater would require the use of large quantities of very expensive substrates and chemistry.
Solution:
Designed and built a small but wide coater, which met format requirements and minimized the use of raw materials in early development.
Implemented clean manufacturing processes to meet product quality needs.
Utilized common coating equipment with the production coater to enable full production scale-up.
Results:
Tested many iterations of product formulation and substrates with minimal material quantities.
Developed process that delivers high quality samples that meet product specifications.
Produced material that was delivered to the final customer for testing.