Partnerships for Multilayer Coating of Paint Protection Films
Carestream partners leverage our multilayer coating, product development and manufacturing expertise to bring a variety of products to the paint protection market, including permanent and temporary paint protection applications. As a leading innovator in simultaneous, precision multilayer coating technology and manufacturing, we utilize relationships with our substrate and chemical supplier partners to develop precision-coated paint protection film structures.
Carestream actively seeks growth partnerships, including joint development, manufacturing partnership or full joint venture, which combine customer product IP and market channels with our high-speed roll-to-roll processing, quality systems and worldwide presence. Our coating partnerships employ advanced materials and constructions, backed by clean room operations, on-line quality inspection methods and extensive analytical testing, to deliver significant process development advantages. Coating assets also feature optional tandem coating stations for high efficiency, long ovens and lamination.
Paint Protection Coating Capabilities:
Water and solvent based systems
In-line mixing of reactive systems
Precision coating
Long dryer/ovens
UV cure
Lamination
Clean room
Process Development Advantages:
Experience with a wide variety of substrate and coating materials
Relationships with substrate/chemical suppliers
Custom Coated Paint Protection Product Expertise:
Permanent and temporary paint protection
Topcoats and multiple layer constructions
Carestream Paint Protection Datasheet: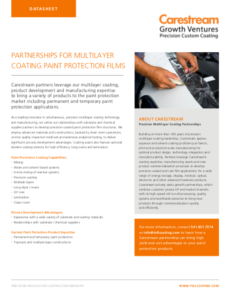 For more information, contact Brian Pahl to learn how a partnership with Carestream can bring high yield and cost advantages for your paint protection products.