Partnerships for Multilayer Coating of Energy Storage Products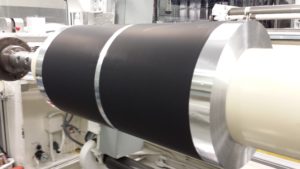 Whether developing or manufacturing components for batteries, supercapacitors or fuel cells, Carestream can add value to your energy storage systems. We combine our simultaneous, multilayer coating expertise with analytical lab, small-scale pilot and production coater assets to deliver a variety of process development advantages including reduced up-front capital investment costs and efficient scale-up of energy storage products to commercialization.
Leveraging over 100 years of precision coating leadership due to our 3M/Kodak history, we seek partners with whom Carestream's unique expertise can be applied to the development of multilayer lithium-ion battery constructions. Our simultaneous, multilayer coating process enables the addition of multiple coated layers without additional passes through the coating machine – resulting in improved performance and reduced cost of battery products. Potential constructions through multilayer design flexibility customers include:
Hybrid cathode systems to balance benefits and constraints of independent systems
Porosity gradient to enable thicker, energy rich electrodes without compromising charge rates
Bottom layer NMC 811 / top layer NMC 532 to enable higher energy density with reduced electrolyte fouling
Alternating silicon and carbon layers to manage expansion while increasing silicon content / energy density
Coated SEI layer to protect electrodes and increase cycle life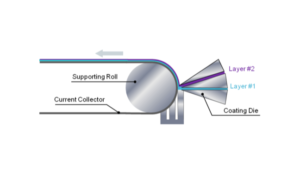 Carestream provides project-ready coating facilities in the United States featuring lab, pilot-scale and full production assets, and manufacturing excellence, with supply chain and finishing services in Asia, to deliver demanding, precision-coated battery structures. Our partnership agreements include: joint development, manufacturing partnership on customer assets and/or ours, and full joint venture. We also leverage our established relationship with Polaris Battery Labs to help customers overcome common roadblocks of bringing their product inventions to market.
Carestream Multilayer Coating Capabilities
Energy Storage Coating and Casting Capabilities:
Simultaneous, multilayer coating
On-site mixing of the slurries and solutions
High viscosity particle filled slurries in NMP and water
Precision lane coating
Solution cast films and membranes
Thickness uniformity of ± 1% to 5%
Handling of thin foils
Long dryer/ovens
Lamination
Slitting
Small-scale pilot
Analytical lab
100% automated optical inspection
Process modeling
Process Development Advantages:
Partnership with industry-leading consultant Polaris Battery Labs
Experience with multiple applications in the energy storage market
Product development and commercialization expertise
Custom Energy Storage Product Expertise:
Casting electrode materials
Casting and coating separators and membranes
Primed foils for specific electrode chemistries
Fuel cell membrane electrode assemblies (MEAs)
Carestream Energy Storage Coating Resources:
Carestream Energy Storage Downloads: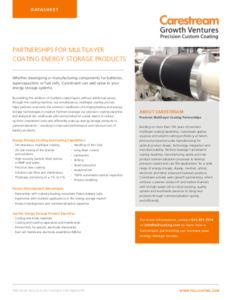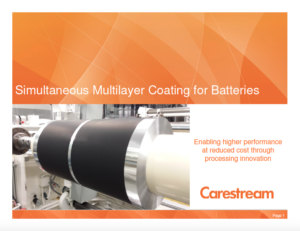 Carestream successfully passed the CTIA Battery Certification Program, which validates a lithium-ion battery's compliance with the IEEE Standard for Rechargeable Batteries for Cellular Telephones (IEEE Std 1725™ – 2011) and the IEEE Standard for Rechargeable Batteries for Multi-Cell Mobile Computing Devices (IEEE Std 1625™ – 2008).
For more information, contact Robert Wildman to discuss how a Carestream partnership can increase your energy storage success.