Partnerships for Multilayer Coating of Optical-Grade Display Films
Leveraging 100+ years of precision coating innovation and a deep history of manufacturing high-quality medical imaging films, Carestream applies our aqueous and solvent coating proficiency at bench, pilot and production-scale manufacturing to meet the stringent requirements for custom coating optical-grade display films. We actively seek growth partnerships, including joint development, manufacturing partnership or full joint venture, which combine customer product IP and market channels with our high-speed roll-to-roll processing, quality systems and worldwide presence to bring new optical-grade display film products through commercialization.
Partners utilize our multilayer coating expertise, manufacturing assets and new product commercialization processes to achieve process development advantages. Our rigorous production release process features 100% automated in-line optical inspection, extensive analytical testing and clean room practices to dramatically improve the performance and reduce the cost of a variety of functional films, including light management, optically clear adhesives, hardcoat transparent conductive and more.
Display Coating Capabilities:
Precision multilayer coating
Clean room to meet stringent optical and cosmetic requirements
100% automated optical inspection
Supply chain service to Asia
In-line lamination
Long dryer/ovens
UV and thermal curing
On-site mixing of the formulation(s)
Low to high viscosity and filled or unfilled formulations
Thickness uniformity within ± 5%
Process Development Advantages:
Experience with multiple display applications
Product development and commercialization expertise
Established relationships with substrate and chemical suppliers
Custom Coated Display Product Expertise:
Optically clear adhesives
Hardcoat and functional films
Light management films
Transparent conductive films using AgNWs, CNTs, conductive polymers, etc.
Phosphor and quantum dot coatings
Anti-glare, anti-newton ring, anti-reflection coatings
Carestream Display Coating Resources:
Carestream Display Coating Datasheets: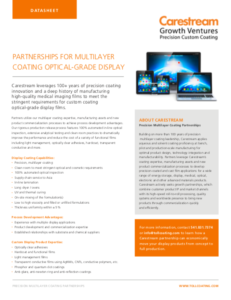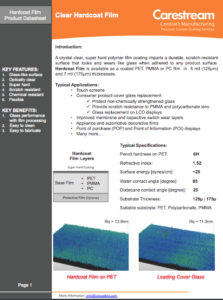 For more information, contact Corinne Ladous to learn how a Carestream partnership can economically move your display products from concept to full production.