Partnerships for Precision Coating of Window Films
As a leading innovator in simultaneous, precision multilayer coating technology, Carestream works with partners to develop window films featuring privacy, decoration, and energy and light management attributes for architectural windows, smart windows, sunroofs, rearview mirrors and beyond. Carestream partnerships deliver significant process development advantages by leveraging our established substrate and chemical supplier relationships to enhance partner-provided formulations with nanoparticles or other additives, which are evenly dispersed into the solution prior to coating.
Our clean room manufacturing practices and air filtration system minimize defects down to the micron level to meet the demanding optical requirements of the smart window market. On-line laser and camera inspection systems help us monitor coating quality and quickly react to waste issues. In addition, Carestream production coaters have dual coating stations that can either coat a second layer on the same side of the film, or apply a different solution on the back of the film. UV curing and lamination are available for applications requiring the application of an adhesive layer to the backside of the film.
Partnerships, whether joint development, manufacturing partnership or full joint venture, utilize Carestream's process and product development expertise to bring new and improved products through commercialization quickly and efficiently at reduced manufacturing cost.
Window Film Coating Capabilities:
Precision, multilayer coating
Clean room to meet stringent optical and cosmetic requirements
100% automated optical inspection
Thickness uniformity within ± 5%
Thermal and UV curing
In-line lamination
On-site mixing of the formulation(s)
Tandem coating of backside adhesives or optical clarity layers
Process Development Advantages:
Product development and commercialization expertise
Established relationships with substrate/chemical suppliers
Custom Coated Smart Window Expertise:
Thermochromic film
Electrochromic film
Photochromic film
Architectural windows
Privacy windows
Switchable rearview mirrors
Optically clear adhesives
Anti-glare, anti-reflection coatings
Carestream Window Coating Resources:
Carestream Window Film Coating Datasheet: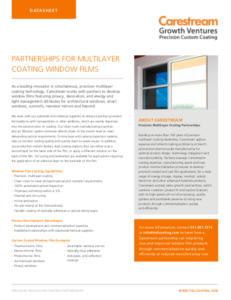 Carestream actively seeks growth partnerships, which combine customer product IP and market channels with our high-speed roll-to-roll processing, quality systems and worldwide presence to bring new window film products to market. For more information, contact Corinne Ladous.