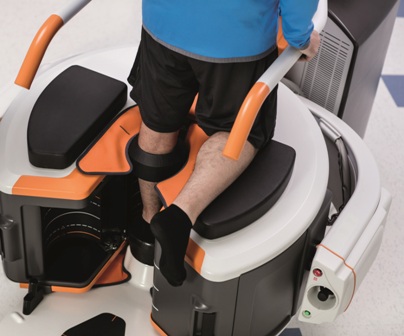 Why Weightbearing CT for Orthopaedic Diagnosis?
Reading Time: 5 minutes read
A clinical comparison of orthopaedic imaging modalities.
By Jarrett D. Cain, DPM, MSc., FACFAS.
When diagnosing disorders of the foot and ankle, imaging is a valuable source of information for the assessment of condition and treatment options. However, the choice of imaging modality depends on several factors:
Reliability
Safety
Cost
Imaging quality
Why not radiographs?
Conventional radiographic studies provide a great baseline; however, additional imaging studies beyond the clinical and initial radiological exam are often needed to guide treatment. Other imaging modalities, such as bone scan, MRI, or CT scans, may be indicated based on what requires further evaluation. X-rays still have limitations in terms of superimposition of joints with complex deformities.
Why not conventional CT?
Traditional computed tomography (CT) has been around for some time and provides important multi-planar (axial, sagittal, and coronal) views with high resolution and thin slice images. It can be particularly useful for skeletal pathology of the foot and ankle: fracture, arthrodesis, nonunion, osteotomies, and arthritis.
However, there are two clinical disadvantages to traditional CT. The first is that it has a higher radiation dose, which always is a safety concern for patients. The second is a diagnostic disadvantage. The scans are non-weightbearing which impacts joint space narrowing and malalignment of the foot and ankle. As a result, it is difficult to have reproducibility of measurements when correlated with standard weight-bearing X-rays.
Why weightbearing CT?
Weightbearing CT (WBCT) is a relatively new imaging technology that allows excellent evaluation of dynamic bony deformities. It enables improved visualization of the joint under natural load to help diagnose surgical and non-surgical candidates. Weightbearing CT allows for improved bone visualization in complex fractures such as malleolar, Lisfranc, cuboid, navicular, and Jones fractures.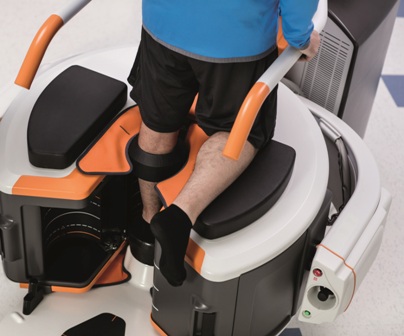 Additionally, advanced metal artifact reduction, a hallmark of this technology, provides confidence in implant placement and fusion stability. It also enables routine post-surgical 3D imaging. Since these WBCTs can just "wheel in and plug in", they can be sited in almost any clinical setting so that diagnosis and treatment can be delivered in a single patient visit. This helps provide faster treatment and increased patient satisfaction.
The Carestream OnSight 3D Extremity System is a weight-bearing CBCT system. One of its most important features is its patient entry to the scan field. The proprietary patient entry door allows easy patient setup for both standing and sitting exams, even in a wheelchair. The design allows for imaging of a single knee, foot or ankle in a natural, weight-bearing configuration.
This provides more information to the radiologist and orthopaedic surgeon than what could be achieved with traditional CT where only non-weight-bearing exams are possible. Imaging only one extremity at a time also reduces patient exposure below the typical dose associated with traditional CT. A number of recent publications indicate that the typical range of dose levels used with CBCT systems are 5-10mGy as compared to traditional CT of 20-50mGy.
The OnSight Cone Beam CT also allows for a more simplified design and a volumetric reconstruction that has 0.26 mm isotropic spatial resolution. What this means is that no matter the view (axial, sagittal or coronal), the image quality is unchanged (not compromised).
CBCT is a variant of traditional CT. The main difference being that the volume of the object is acquired in a single rotation on a flat panel detector. Whereas in traditional CT, multiple rotations are required to capture the same volume of data. The unique, 3-source X-ray tube design significantly increases the imaging volume of the reconstruction over what is typically achieved with traditional single-source acquisition along with reducing the well-known cone beam artifact that has impacted large-volume CBCT reconstructions. This design can also enable advanced applications in the future.
A natural weight-bearing configuration enables a more accurate determination of the relative placement and orientation of the bones in the foot, ankle, and knee while under realistic load conditions. The weight-bearing images show the narrowing of the joint spacing that cannot be seen on the non-weight-bearing exams.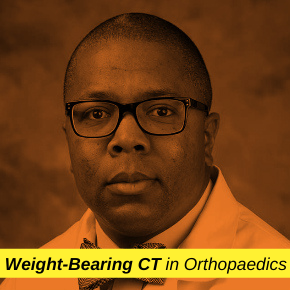 In summary, weightbearing CT is a novel technology that produces lower radiation to the patient, higher spatial resolution, anatomic reliability and reproducibility, and greater accuracy with alignment as it facilitates a more accurate diagnosis by the radiologist and a more accurate course of treatment plan by the foot & ankle surgeon.
Jarrett D. Cain, DPM, MSc., FACFAS, is Associate Professor, Department of Orthopaedic Surgery, at University of Pittsburgh School of Medicine, University of Pittsburgh Medical Center, Pittsburgh, PA.
Read more: