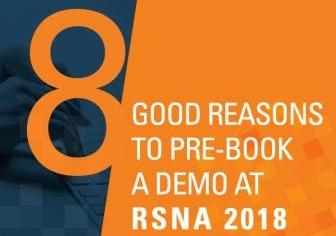 8 Good Reasons to Pre-Book a Demo at RSNA 2018
Reading Time: 1 minute read
Schedule your personalized demo with Carestream today!
RSNA is a big show and Chicago is a great destination. How can you possibly fit all the sessions and product demonstrations into your schedule?
One way is to pre-book your personalized demonstration with Carestream. You will spend less time waiting at the booth for a product specialist to become free.
Read the infographic for seven more good reasons to pre-book your demo. With some advance planning, you might even have more time to visit Chicago's great eating spots and shop along the Miracle Mile! Don't wait; book your demo today!
Katie Kilfoyle Remis is the editor of Everything Rad and the social media strategist for Carestream Health.