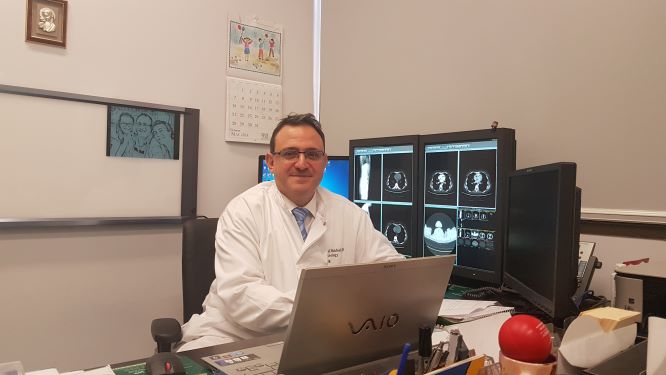 Where to begin a PACS upgrade? LAU Medical Center began with the VNA
Reading Time: 5 minutes read
CARESTREAM Vendor Neutral Archive gives us control of our data – and the foundation to expand.
Dr. Daniel Mahfoud, MD. Chair, Diagnostic Imaging and Interventional Therapeutics at LAUMC-RH.
LAUMC-RH has a strategic roadmap to become a Center of Excellence in the Middle East. However, at one point, our existing RIS-PACS became a roadblock. The solution: a flexible Vendor Neutral Archive that gives us control and access to our increasing volume of data, with separate imaging and archiving layers, regardless of the modality.
We realized the limitations of our RIS-PACS as our healthcare facility grew. In 2010, the Lebanese American University (LAU) acquired Rizk Hospital, a 120-bed private hospital in Ashrafieh-Beirut, to establish a university medical center. Later, in 2012, a complete new Imaging Department was implemented with a PACS vendor taking control of the archives. Then in 2018, we completed our strategic plan as LAUMC-RH to become a Center of Excellence in the Middle East.
As we developed the plan, it became clear that our PACS did not meet our imaging needs today – and it certainly did not support our strategic expansion plan.
Expansion will require remote access and collaboration
LAUMC-RH plans to acquire additional centers in the various regions of Lebanon. We want to serve patients in remote areas who cannot always go to the capital for their healthcare needs.
As we expand, radiologists within the central facility, as well as the radiologists and clinicians working in these regional clinics, will need a robust communication system in order to deliver high quality reports in all domains of expertise, and in a timely manner. In addition, referring physicians will need remote access to patient files to support LAUMC-RH's expansion plan. This requires a VNA that is truly neutral. Additionally, we need a system that will not limit the number of users which we know will increase over time.
New imaging modalities require connectivity without limits
We are acquiring new modalities to help provide improved patient care. Our platform already included two MRI systems, one PET CT/PET MR, a biplane angiography suite, two digital mammography systems, high definition ultrasound machines, and bone densitometry.
Recently, we acquired a SPECT-CT and a new biplane angiography suite dedicated for neuro-interventional procedures within our comprehensive stroke center, the first in Lebanon. As we brought on new imaging modalities, our Radiology Department quickly raised the need to replace our previous PACS because of its limitations in connectivity.
How Carestream met LAUMC-RH's requirements for a flexible and neutral VNA
 Carestream's VNA – the Clinical Repository module – within the Carestream Clinical Collaboration Platform, is fully vendor agnostic. It works with any modality from any vendor and can ingest, manage, and provide enterprise access to various types of data.
It can accommodate not only data from multi-modality radiology sources, but also from non-DICOM sources beyond radiology like dermatology and pathology. For example, our recently acquired biplane imaging system – one of the most advanced in the world –would not connect to our old PACS. But we expect no difficulty in connecting it with the Carestream Clinical Collaboration Platform. We expect the same simplicity when we connect e-pathology, cardiology, endoscopy, and dermatology in the future.
Enterprise access to all the data is possible with Carestream's Vue Motion enterprise viewer module. The zero-footprint enterprise viewer is part of the Clinical Collaboration Platform and connects seamlessly to the PACS module. This provides ease of access, even remotely, for radiologists, referring physicians, and authorized medical students.
 We know that replacing a PACS requires heavy data migration and it is not a quick implementation. Another primary reason we chose Carestream is their experience in migrating from existing PACS. The company also has multiple installations near Beirut.
Carestream's excellent reputation for post-sale service throughout the Middle East and the presence of their experienced and reliable channel partner in Lebanon were extremely important to our team. After our solutions are installed, training and maintenance must begin. We will continue to count on Carestream to take care of us.
Going above and beyond our requirements for a PACS upgrade
In addition to removing our PACS roadblock, we gained added benefits that are beyond our requirements:
Better collaboration with our referring physicians with the added capability of integrated multimedia reports with embedded links to key studies.
Advanced diagnostic tools for various specialties like neurology and oncology integrated within the same platform.
The ability for the IT Department to own and control their own data in a neutral repository, resolving the issue of ownership and security of the archive.
Integration of the modality licenses we already have while maximizing productivity on the new workstations through a server based platform.
The ability to give patients access to their images and reports through Carestream's MyVue patient portal module. Patients can forward their data to another provider if they would like a second opinion.
Carestream's robust business analytics module, Vue Beyond, provides real-time information, which is useful to the radiology department's administration. The analytical data helps measure and improve efficiency.
PACS lessons learned at LAUMC-RH
Replacing a RIS-PACS is a major and important decision. Here are some strategies we applied that might be helpful to other imaging providers.
Start with the VNA. Once the data is addressed, the rest falls into place naturally. Remote access follows easily and a patient portal can be added with little difficulty.
Be collaborative. RIS-PACS replacement is a decision involving many stakeholders. Everyone wants the best system, but each stakeholder has particular areas of concern. Cost is on everyone's list of issues, but deciding on appropriate levels of quality vs. cost requires close collaboration between the Radiology Department and hospital governance. At LAUMC-RH we had the full support of the CEO, M. Rizk, who recommended an open system that would allow future expansion.
The more modality licenses per workstation, the smoother the workflow for the radiologists. The more diagnostic workstations there are, the more productive radiologists can be. This is where the limitation on the number of concurrent users might be an issue in some systems. Virtual desktops are also important. Radiologists can tell you how much time it takes to move from one workstation to another—to log in, set up the new workstation, etc. This is solved with virtual desktops, provided that you have enough workstations in all reading areas. But workstations are also costly, so there is a tradeoff between productivity and system cost. Carestream was helpful in providing answers to our many questions and in proposing a solution that respected our cost parameters, yet provided us a good solution for our needs.
Make sure your radiologists like the system. We asked radiologists and other users to test the Carestream systems to be sure they were comfortable with the proposed interface before finalizing our deal.
Ask about local support. A local presence is important in order to have good service, maintenance, and training assistance when and if you need it. Also, do not forget to integrate the support and maintenance fees within your budget. It might be surprisingly variable – and higher – between one vendor and another. For us, it was a key requirement that Carestream and their local channel partner passed with flying colors.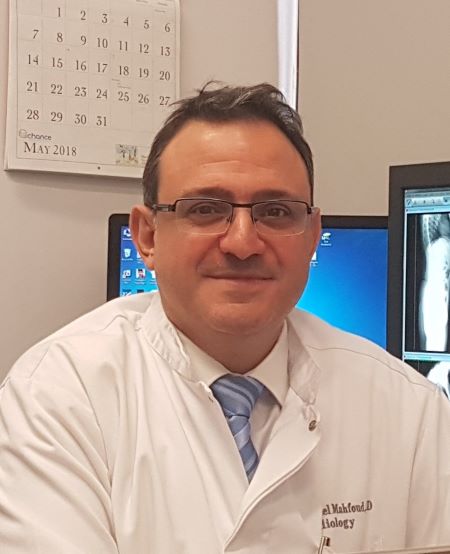 Dr. Daniel Mahfoud, MD. Chair, Diagnostic Imaging and Interventional Therapeutics at LAUMC-RH received an MD in General Medicine from St. Joseph University, Beirut in 1990 before spending six years at Université René Descartes in Paris, where he received an MD in Radiology. He holds a Master degree in Healthcare Administration from ESA-Paris 7. He is a full-time radiologist at LAUMC-RH (previously Rizk Hospital) since 1999.