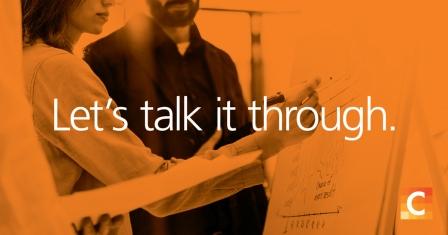 Explore Radiology Healthcare Cloud Services at SIIM18
Reading Time:
3
minutes
Look to Carestream for healthcare IT expertise and global experience in high-capacity cloud implementations.
The theme of SIIM 2018 is "Inspiring Collaboration"- and the path to collaboration is through the healthcare cloud! The cloud enables your many authorized stakeholders to easily access patients' medical images and radiology reports.
Cloud-based image management solutions also make sense due to impressive economies of scale. Healthcare enterprises, radiology imaging centers and hospitals of all sizes elect to use cloud solutions because they can deliver increased security, comprehensive functionality and a more affordable cost than on-site data centers. We are showcasing this powerful technology at the SIIM conference (Booth #401).
The cloud model is a movement forward from the onsite footprint wherein healthcare providers installed PACS, RIS, vendor-neutral archives and other systems that capture, manage and share images at locations throughout their enterprise. This infrastructure is expensive to purchase and maintain, and must be protected with multiple layers of security.
Carestream's ability to optimize cloud performance and collaborate with firms like Intel® is paying off with increased demand from healthcare providers across the globe. We are delivering public and private cloud solutions in Europe and Latin America; and 60 countries, including the United States, Canada, and China, can access our cloud services. Today, our healthcare imaging cloud service manages more than 26 billion images in public and private cloud data centers around the world.
Healthcare cloud services enable users to access image and workflow management tools, use vendor-neutral archiving and enjoy advanced multimedia and interactive reporting capabilities. Carestream's cloud services include security, data protection and disaster recovery for multiple types of clinical data and standards such as DICOM, PDF, JPEG and XDS. All services can be fully integrated with a facility's electronic medical record (EMR).
Cloud services offer advantages for facilities of all sizes. The services deliver high-performance applications with a predictable fee that eliminates the need for a large capital investment and continuous maintenance, management and technology upgrades.
Imaging centers and mid-sized hospitals benefit from a service model that offers high-quality archiving and image-sharing features along with expertise in data security delivered by Carestream's Certified Tier 4 Security Data Center. The data center includes redundant IT infrastructure; multiple independent data paths; dual-powered computing and environmental systems; fault-tolerant site infrastructure; continuous surveillance with strict access control; and ISO/IEC 27001 certification.
Deployment of cloud-based solutions is expected to grow since healthcare providers of all sizes appreciate services that include technology refreshment and can be easily scaled to accommodate a growth or decrease in imaging volumes.
Healthcare cloud services also allow healthcare facilities to devote financial resources to research, development and other activities that can enhance patient outcomes. Cloud-based computing—coupled with the industry's need to be flexible, collaborative, and consumer-focused—means that healthcare will inevitably adopt new ways of utilizing the cloud.
Ludovic d'Aprea is General Manager for Healthcare Information Solutions at Carestream Health.
#imagingIT #SIIM18 #cloudservices #healthcarecloud  #HIT
Read the white paper on Evaluating the Data Security Capabilities of Cloud-Based Services.
Watch the video to learn why the cloud is a liberating technology
Read Intel's white paper on overcoming the latency and bandwidth challenges of the cloud.
Intrigued by the infographic? Visit Carestream at Booth #401 at SIIM18 and hear the stories behind the numbers!