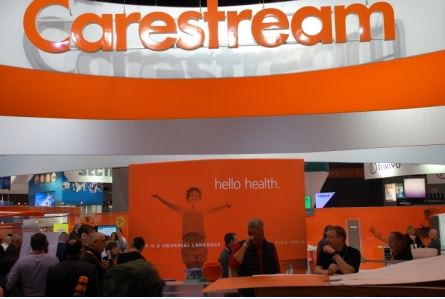 Love RSNA17? Like Videos? Watch the Carestream Booth Tour!
See our diagnostic imaging and healthcareIT products on display at RSNA 2017.
Are you feeling the post-RSNA let down? Or did you miss the big show and want to catch up on the latest innovations in healthcareIT, and mobile and room-based medical imaging? We've got just what you need – a video tour of the Carestream booth live from the RSNA show floor! Also, you can request more information at our RSNA17 web page.
New diagnostic imaging and health IT products on display
Our newest solutions include a smaller mobile imaging system, software for radiologist reading workflow, improved metal artifact reduction, and a self-service kiosk for patients.
The CARESTREAM DRX-Revolution Nano Mobile X-ray System that uses carbon nanotube technology to deliver a smaller, lighter weight mobile X-ray system that is easier to move and position even in cramped patient care areas. (It is scheduled for availability in 2018; not currently available for sale.)
Carestream's Workflow Orchestrator module that streamlines the process of reading and reporting results for patients' CT, MR, X-ray and other types of imaging studies. It assesses each imaging study and routes it to the most appropriate general or specialty radiologist, while ensuring that all studies are read efficiently. This platform is available for order and is expected to begin shipping in the first quarter of 2018.
New metal artifact reduction software for our OnSight 3D Extremity System that can reduce the visual distortion caused by screws, implants, rods and other metal objects used in orthopaedic surgery to create improved diagnostic confidence. This software is pending FDA 510(k) Clearance.
And our MyVue Center Self-Service Kiosk that equips patients to view and share their medical images and radiology reports with physicians, friends or family members.
Ultrasound and DR imaging products, and Clinical Collaboration Platform also in the spotlight
Our existing top-performing products also were on display in our 12,000 square foot (1,115 square meters) booth.
Our DRX Plus detectors that are faster and lighter than previous models, and DRX Core detectors designed to make reliable, high-quality digital X-ray imaging affordable for healthcare providers of all sizes.
CARESTREAM DRX-Excel and DRX-Excel Plus radiography/fluoroscopy systems that perform contrast exams using fluoroscopy that can be associated with a patient's radiography image, and
Carestream's Touch Prime family of ultrasound systems that allow sonographers and clinicians to gain better visualization of small structures as well as contrast differences in tissue for radiology, OB/GYN, musculoskeletal and vascular applications.
Our healthIT portfolio that includes a Unified Core architecture for our Clinical Collaboration Platform that enhances security as well as interoperability, and complements healthcare providers' existing IT systems. This architecture delivers clinical image data acquisition, viewing, sharing and archiving, and allows healthcare facilities to add features as needed. Physicians can access our Vue Motion universal viewer to easily view and share patient medical images and reports using mobile devices.

Want to learn more? Visit our RSNA17 webpage to request more information.
#RSNA17  #radiology #ultrasound #healthcareIT #EverythingRad
Subscribe to receive new blogs on Everything Rad delivered to your inbox; sign up today!
Katie Kilfoyle Remis is the Digital Media Manager at Carestream Health.