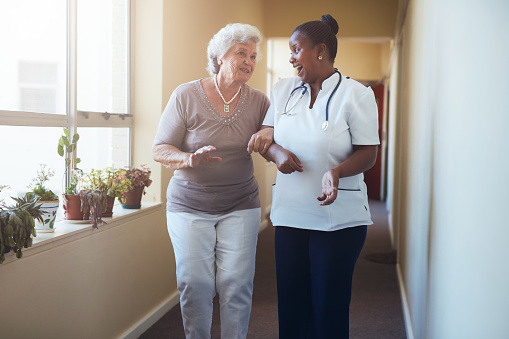 Understanding True Patient-Centered Care in Radiology
Reading Time:
4
minutes
A close look at this crucial yet misunderstood movement in diagnostic imaging.
By Klaus Erdbories, Vice President of Global Medical Sales, Carestream Health.
Editor's Note: As the healthcare industry transitions to a tighter focus on Patient-Centered Care, we developed a three-part blog series on this timely topic. This is part two of the series. You may wish to read part one, "Understanding True Patient-Centered Care", and part three, "Patient-Centered Care and the Technologist."
Understanding true patient-centered care 
 "A good physician treats the disease. The great physician treats the patient who has the disease."  – Sir William Osler, M.D. July 12, 1849 – December 29, 1919;  Co-founder of John Hopkins Hospital
You can hardly have a conversation about the state of healthcare today without hearing the term "Patient-Centered Care." But while thousands in the medical field are talking about it – and have been for some time – how many of us fully understand this concept?
According to a study group led by Dr. Andrew Rosenkrantz of the NYU Langone Medical Center, "…concern has been raised over the confusion about the true meaning of 'patient-centered' and its misapplication to a wide range of initiatives that, though potentially improving quality or the patient experience, do not truly constitute patient-centered care."1
To clarify, patient-centered care involves far more than striving to serve the patient with outstanding medical services. It even goes beyond the objective of increasing one's existing standard of care. These goals – commendable as they might be – are merely quantitative in nature; true patient-centered care requires a radical qualitative change.
In fact, it demands no less than a complete paradigm shift.
This is because, from its very beginning, modern medicine has been a practitioner-focused discipline – in which diagnosis, planning and delivery of treatment all derive exclusively from the clinician's perspective, education, experiences and judgment. Unfortunately, the drawbacks of this approach can be considerable.
Here's a good example: the Harris Hip Score. This is a standard metric commonly used by orthopedic practices to evaluate the outcome of hip-replacement surgery. This measurement tool was created by clinicians, and, not surprisingly, focuses solely on the information the physicians involved deemed meaningful. The tool does yield data that can be useful – as far as it goes. Unfortunately, it fails to examine the surgery's outcome from the perspective of the patient. They're not given any opportunity to report their own individual level of satisfaction with their operation.
In short, patient experience is simply not a part of the equation.
Moving to a true patient-centered system
Conversely, genuine patient-oriented care replaces our current physician-centered system with one that revolves entirely around the patient – and focuses heavily on the issue of patient satisfaction. This is essential in the transition from volume- to value-based care – particularly in countries where patient-satisfaction scores are tied directly to reimbursement.
To further demystify and define patient-centered care, we can consider the following statements:
Patient-centered care, above all, is based upon the human connection between clinician and the patient.
It requires a mindset that respects each individual's unique needs, preferences and values – including the special concerns stemming from a patient's ethnic and/or cultural orientation.
It means conferring with and listening to the patient rather than relying solely on the physician's criteria or evaluation tools.
In patient-centered medicine, individuals feel empowered and involved in managing their own care.
It stresses in-depth communication with patients, based on empathy and customization of all approaches to diagnosis and treatment.
Patient-centered clinicians work toward continuous improvement of the patient-physician relationship through examining measurable results.
This perspective is best summed up by Donald Berkwick, M.D. – CEO of The Institute for Healthcare Improvement. He refers to patient-centered care as "The experience (to the extent an informed patient desires it) of transparency, individualization, recognition, respect, dignity, and choice in all matters, without exception, related to one's person, circumstances, and relationships in health care." 2
The benefits of the new paradigm
The shift to patient-centered care will prove nothing short of transformative. When the model is fully realized, says James Rickert in the Health Affairs Blog, "Physicians practicing patient-centered care will improve their patients' clinical outcomes and satisfaction rates by improving the quality of the doctor-patient relationship, while at the same time decreasing the utilization of diagnostic testing, prescriptions, hospitalizations, and referrals." 4
Patient-centered care has the power to do more than raise patient satisfaction, improve outcomes and support a higher overall quality of life. At a recent symposium on saving money and improving care, Health Affairs Editor-in Chief Susan Dentzer stated, "It is well established now that one can in fact improve the quality of healthcare and reduce the costs at the same time."
Patient-centered care is undeniably the future of medicine. Still, according to Dr. Berkwick, we have a ways to go before we get there: "…the patient-centeredness of our current systems is far from what it should be." He continues, reminding all healthcare professionals to keep this thought top-of-mind mind: "We are guests in our patients' lives instead of hosts in our health care organizations." 5
Want to learn how Carestream's solutions support patient-centered care? Book a demo here!
#PatientCenteredCare #EverythingRad
Klaus Erdbories is Vice President of Global Medical Sales at Carestream Health. He has 15 years of experience in medical imaging sales, operations and finance. His education includes an Executive MBA from IMD Business School.
1 auntminnie.com/index.aspx?sec=ser&sub=def&pag=dis&ItemID=116229
2 //content.healthaffairs.org/content/28/4/w555.full
3 ihi.org/resources/Pages/ImprovementStories/AcrosstheChasmAim3HealthCareMustBePatientCentered.aspx
4 //thedoctorweighsin.com/effective-doctor-patient-communication-is-the-key-to-patient-centered-care/
5 healthaffairs.org/blog/2012/01/24/patient-centered-care-what-it-means-and-how-to-get-there/