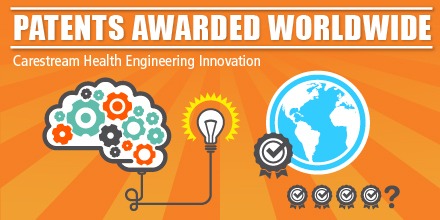 How Can You Measure Innovation in Diagnostic Imaging?
Patents and industry recognition are two ways to quantify it.
Innovation in diagnostic imaging and healthIT is continually evolving, improving their potential to help provide better patient care and at less cost.
But how can you measure innovation? Patents and industry recognition are two ways. Please indulge us while we share some of our accomplishments from 2016. And if you'd like a preview of our plans to advance imaging capture this year, read the recent blog by our president of Digital Medical Solutions, Jianqing Bennett.
Let's start with patents. In 2016, we were awarded 43 new patents from the U.S. Patent and Trademark Office for innovation in radiography, cone beam CT imaging, healthcare IT, and other areas. We also received 52 additional patents in European and Asian countries.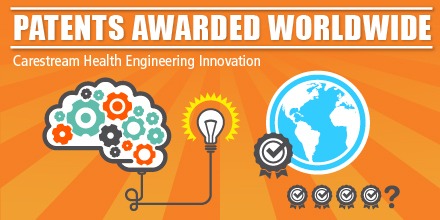 The patents earned by Carestream's smart scientists and engineers include:
New medical image capture technologies related to the development of cone beam computed tomography (CT) systems designed for orthopaedic extremity imaging
Enhancements to our portfolio of healthcare IT systems that manage, store, and share patient data and medical imaging exams
Continued technology advances in our growing portfolio of radiology systems that can enhance diagnostic image quality for a wide range of healthcare providers
Continued advancements in laser imagers that provide affordable output of digital X-ray exams onto medical film and paper
Accolades from Aunt Minnie, Frost & Sullivan, and KLAS
Another measure of diagnostic imaging innovation is recognition by the industry. In 2016, we were proud to receive the Aunt Minnie award for Best New Radiology Device for our pioneering OnSight 3D Extremity System that brings a new modality and clinical value to the orthopaedic market.
Our OnSight system also was recognized by Frost & Sullivan which awarded it the 2016 North American Frost & Sullivan Award for New Product Innovation.
Frost & Sullivan also selected Carestream as the winner of its 2016 North American Medical Imaging New Product Innovation Leadership Award.  The research organization put our DR, fluoroscopy, ultrasound, CBCT, and healthIT imaging informatics products through its rigorous evaluation.
KLAS also had accolades for us. The KLAS Enterprise Imaging 2016 Report gave high ratings* to our vendor-neutral archive and universal viewer. Also, we tied with one other vendor for offering "the strongest and most consistent out-of-the-box image management functionality." Carestream's FDA-cleared Vue Motion also was highly rated* in the universal viewer category.
The dedication of our employees at Carestream Health India earned them a Certificate of Merit for Best Customer Service from the ABP Healthcare Leadership Awards. The acknowledgements are given to the best healthcare organizations for the outstanding work done by them in healthcare.
What's next in diagnostic imaging innovation?
Enough about 2016;  what's next in diagnostic imaging innovation? In 2017, we are pushing the boundaries of engineering innovation in radiology in four important areas:
Accelerating processing speed
Expanding the parameters of 3D and 4D
Capturing images at the right place at the right time
Automating workflow
Although it's only March, we're already adding to our list of industry recognition. KLAS recently named Carestream as the 2017 Category Leader for Global PACS in Asia/Oceania region.
Thanks for reading and giving us an opportunity to shine the spotlight on the innovations in diagnostic imaging that we bring to the market. We share your passion to enhance the value, profitability, and marketability of the radiology profession.
Click to tweet: Patents and awards are 2 ways to measure the innovation of diagnostic imaging suppliers http://bit.ly/2pimJvv #radiology #healthIT
Click to tweet: In 2016, Carestream received 43 US patents; &52 additional patents in European & Asian countries. http://bit.ly/2pimJvv #radiology #healthIT
*KLAS Konfidence is a measure of sample size. Carestream was included in KLAS' "Below Konfidence category" because fewer than 15 interviews were conducted.

Katie Kilfoyle Remis is the Digital Media Manager at Carestream Health.