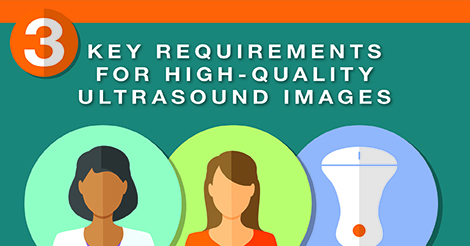 Ultrasound Image Capture – An Imaging Guide Infographic
Sonographers, patients, and equipment all play a role in ultrasound image capture.
Like a three-legged stool, quality ultrasound image capture requires a balanced foundation. Sonographers, patients, and equipment all play an equal supporting role. Here's an imaging guide that explains the fundamentals. (See the infographic on the next page).
More than any other imaging modality, quality ultrasound image capture relies heavily on the operator. Thus, a well-trained sonographer is a critical piece of the foundation. For example, with conventional Doppler imaging of blood flow, the wrong angle can lead to discrepancies in results. Also, attaining the proper angle correction takes time, slowing down workflow.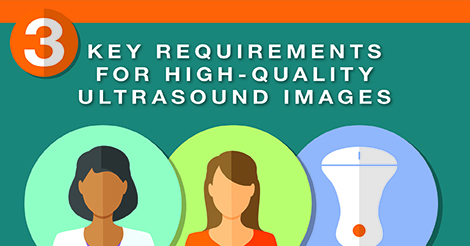 A well-trained sonographer also is familiar with the many functions available on the equipment and uses them to their advantage for quality ultrasound image capture. Additionally, an experienced sonographer has confidence. Their poise gives patients added assurance and makes them more comfortable.
A cooperative patient – the second leg in our ultrasound imaging basics guide – follows the sonographer's direction, getting in to the right position and holding still when asked.
The third element for quality ultrasound image capture is the system itself. First and foremost, the product must be technically able to quickly render a quality diagnostic image. Additionally, it needs a well-designed ergonomic workstation that works in tandem with the sonographer.
Sonographers do a lot of movement, getting both the patient and the machine in position. Adjustable features make it easier to maneuver the equipment and accommodate a sonographer's individual work style.  An accessible control panel minimizes excessive reach. A user-friendly system also has built-in protocols and presets that make workflow easier. Together, these features can help reduce the musculoskeletal disorders that plague the profession.
Fortunately, manufacturers are working more closely with users to incorporate customer feedback into product design. About 100 sonographers, physicians, radiologists, radiology administrators and sonography students from throughout the world gave feedback on our Touch Prime Ultrasound System throughout its development.
When sonographers, patients, and equipment are in synch, a high quality examination is a likely outcome.
To learn more about quality ultrasound image capture, watch the video interview with Dr. Hamad Ghazle from the Rochester Institute of Technology (RIT). Dr. Ghazle is RIT's Director of Diagnostic Medical Sonography, the recipient of the 2014 National Society of Diagnostic Medical Sonography (SDMS) Distinguished Educator Award, and has been named one of the Top 25 Professors of Sonography by Medical Technology Schools.


Dan Monaghan is the Regional Ultrasound Business Manager for Carestream in the United States and Canada. Twenty-one of his 25 years in healthcare have been devoted to ultrasound equipment sales and management.