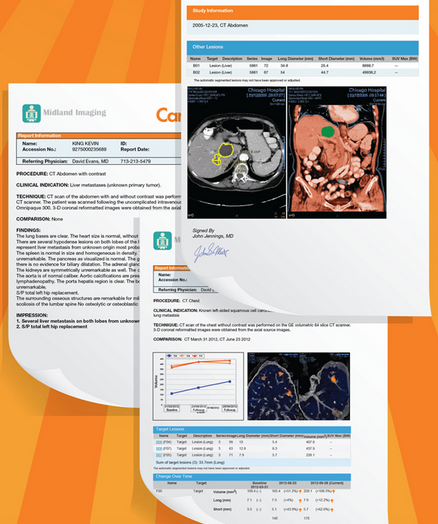 Four Reasons Multimedia is the Future of Radiology Reporting
Reading Time: 3 minutes read
We have been touting the power of multimedia-enhanced radiology reporting for some time. We have shown the history of reporting in our industry, as well as showcased the important business cases multimedia reporting provides to departments via referrals from physicians.
In brief—multimedia-enhanced radiology reporting is the future. Still don't believe us? Consider these four key points that highlight the benefits of these new-age reports: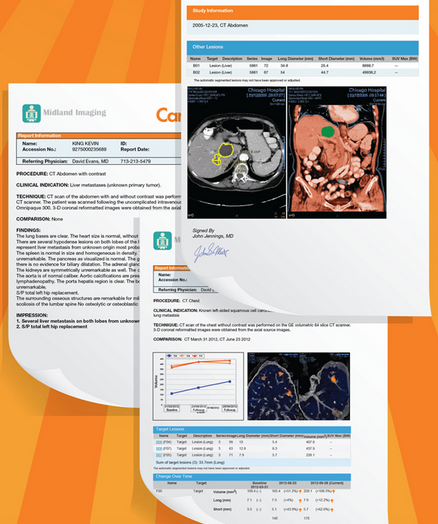 1) Improved context related to patient history. This new format for radiology reports provides physicians and radiologists with more history related to the patient. With this history, radiologists gain a greater understanding of the patient's health, as well as insight into patterns that may help with diagnosis.
2) The display of data is cleaner and easier to access. Images, lesion measurements, graphs, charts—they all exist to provide easier access to necessary information. Hyperlinks also exist within multimedia reports, so physicians can access an image splice via a hyperlinked description within the text of the report. In a recent study conducted by the National Institute of Health (NIH), oncologists and radiologists agreed that quantitative interactive reporting would be superior to traditional text-only qualitative reporting for assessing tumor burden in cancer trials at its institution. Based on this study, NIH said that it aims to improve its reporting in concert with its new PACS capabilities that include semiautomated lesion segmentation, interactive reporting, and metadata management of lesions.
3) Promotes better communication between patients and physicians. With a format that is easier to read and understand, physicians have a resource that is much easier to explain to patients. By showing them their medical images, as well as associated measurements, physicians have better visuals and information to use to talk with their patients about their diagnoses.
4) The possibility of more referrals from physicians. A study conducted by Emory University School of Medicine found that 80% of physicians would preferentially refer patients to a facility with multimedia reporting. The study also found that 79% of physicians are more likely to recommend that their peers refer patients to a facility with multimedia reporting. This shows that not only is multimedia reporting better for the patient, but also for the radiologist's department or clinic, as they are more likely to receive more patient referrals when using multimedia reporting.
Multimedia radiology reporting is the next logical stage in the evolution of the radiology report. As communication between physicians and patients becomes more commonplace and expected, doctors will need the appropriate tools to explain diagnoses to patients in a way that is easy to comprehend. The capabilities offered via multimedia enhanced radiology reporting can effectively serve as these tools and provide physicians with the valuable information they need.
Cristine Kao is the global marketing director for Carestream's Healthcare Information Solutions (HCIS) business.

Editors update: A study by the National Institutes of Health published in 2017 demonstrated that multimedia radiology reports enhance tumor tracking.