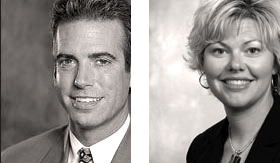 Meaningful Use in Radiology: Overview and Implementation
Keith Dreyer, DO, Ph.D and Marjorie Calvetti
Meaningful Use offers great opportunity for radiologists to participate in the incentives.  Most radiologists qualify to participate in the incentives, and often compliance can be achieved by leveraging medical imaging software such as RIS and PACS.
Keith Dreyer, DO, Ph.D, Associate Chairman of Medical Imaging, Massachusetts General Hospital, and Marjorie Calvetti, Medical Imaging Director, Memorial Medical Center, Springfield, Illinois, both have experience in preparing their imaging departments for Meaningful Use compliance.  In a 
webinar
with Carestream and Diagnostic Imaging, they share their experiences and offer advice for professionals working towards compliance.  Ms. Calvetti is a member of Carestream's advisory board.
 Once you have viewed the presentation, feel free to ask questions or make comments here.  We will work with our presenters to get answers that can be shared with you and our entire community.