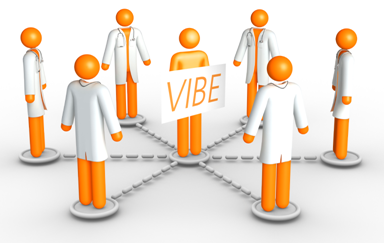 Over the past year Carestream's Very Important Board of End-Users (VIBE) User Group has grown rapidly and actively based on user input and collaboration. As we collected extensive customer input and feedback, we found the need for an enhanced platform. The result was an optimized resource that is tailored to the needs and wants of our current users, the VIBE Community.
The new platform contains a comprehensive content library containing a mixture of documents, videos, and covering topics such as Healthcare IT and market trends, ROI and productivity, and exclusive Carestream information. Extensive service documentation is also available in the group for easy access such as release notes and manuals. Members of the VIBE community also receive exclusive invitations to online webinars.
The community contains interactive discussion groups for RIS and PACS for peer-to-peer collaboration.  Users are able to ask questions and easily share documents, videos, links and images within the group. Additionally, we have a dedicated team of Carestream subject matter experts at service and active within the VIBE Community.
There are about 200 pieces of informational content on the site contributed by Carestream employees across the organization as well as customers. The most popular content on the site includes information and documentation on new releases of PACS and RIS, as well as several customer led questions and discussions.
If you are not already a member of the new VIBE Community, don't miss out on the conversation! All Carestream customers who are current users of our healthcare information solutions are eligible to register.
You can get connected now by visiting VIBE Community page and registering for an account.
Once you are signed up, there is a three-step process for getting started:
Complete your User Profile
Upload an avatar and pictures: Show us who you are.
Add your Skills and Expertise: Tell us what you're an expert at. This is important so if a user has a question or idea on a specific topic, they will know who to talk to.
Understand Resource Spaces and Discussion Groups and Follow What You're Interested in
What is a resource space? Our Resource Spaces serve as content libraries consisting of webinars, videos, customer testimonials, service documentation and more.
What is a discussion group? Our Discussion Groups are where the conversation happens. Ask a question, share a best practice, discuss an idea  or at the very least view what your peers have to say.
Start Connecting!
Don't be afraid to post your questions or ideas: A good place to get started is to tell us a little about yourself in our intro thread.
Additional questions? Feel free to ask other users or Carestream subject matter experts, or browse through our other documents in the Help/Getting Started space.
Adina Schoeneman is the global marketing specialist for the healthcare information solutions business, and is also the community manager for VIBE.