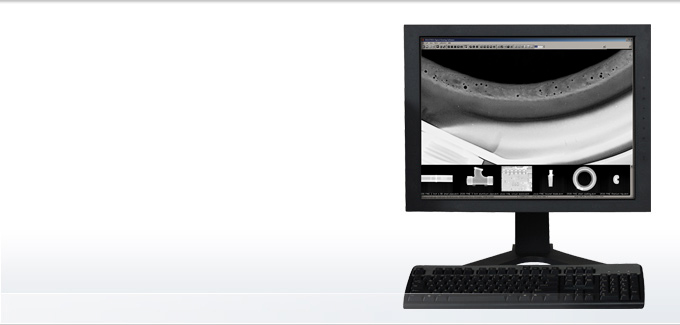 CARESTREAM INDUSTREX Digital Viewing Software
Work Smarter with the new NDT Industrex Viewing Software.
Carestreams newest Industrex Viewing Software incorporates industry leading EDGE automatic image processing filters allowing easily viewing of different density ranges. Pipe Wall Thickness Tool and Object Measurement Reticle make measuring a snap. Maximize image management with quick image retrieval and traceability of altered images while the original remains intact. Latest enhancements include tool bars that can be copied, improved batch image and metadata editing capability, and a New Lite customer viewing software.
Features
Specifications
Order Information
Features
EDGE Filter offers eight sets of parameters based on settings found to be most useful in practice, enables the user to view an image with increased detail and clarity.
Tool bar configuration can be copied across systems
Smart-Erase improvements
Batch image and metadata editing improved throughput allowing for easy changes
Lite software will install and run on Windows 8 Professional
As viewed 8-bit images are full size as viewed (not negative)
Wall Thickness Measurement Tool calculates and displays:

Single wall thickness
Double wall thickness
Minimum and maximum thicknesses in a defined ROI

Measurement Reticle provides measurements of radial distance from a central point

There are three different reticle types selectable in preferences: pinwheel (crosshair), concentric circles or both

Automatic file control tracks who used the file last and any changes to the original
Software can be easily connected to a users existing network
Remote access via the network allows files to be shared worldwide
CD creation through IDX: built-in capability to save files to CD or DVD
Split-screen capability to compare multiple images easily
Multiple user account password control
Advanced user display preference settings
Display DDL on plots
Linear data support
Sticky tools
Window and level adjustment with indicator
Contrast normalization
Navigation thumbnail
True size image display
1:1 printing
Single or batch erase 
Windows® 7 Platform
DICONDE compliant, designed specifically to comply with universal guidelines for image storage, retrieval and transmission
Image acquisition:

Acquire from the INDUSTREX HPX-1 Plus CR Reader
Acquire via an Array™ 2905/2905HD Digitizer
Acquire images from other DICONDE file source
Specifications
Order Information