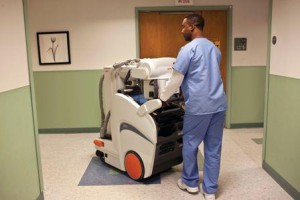 DR Continues to Prove its Worth as Market Matures
Reading Time: 3 minutes read
We have shown before how much faster digital radiography (DR) can be compared to computed radiography (CR) when it comes to capturing and displaying images, but now that efficiency has translated into the radiology IT world on PACS systems.
A recent study conducted in Hong Kong and published in the Journal of Diagnostic Imaging showed that radiologists could obtain mobile X-ray images in their PACS network 70% sooner using a wireless portable DR system rather than a mobile X-ray system using CR plates.
The difference in timing with DR and CR were drastic—it took 6.8 minutes for the PACS to receive the image after it was acquired using DR, and 23 minutes to acquire an image taken via CR. Taking this information and adding it to the efficiency displayed when capturing images, and DR continues to prove its worth.
In the Hong Kong study, the researchers used the CARESTREAM DRX-Revolution Mobile X-ray System, and experienced the benefits of being able to process, load, and send captured images across the facility's wireless local area network (WLAN). Images maintain high image quality when transferred across wireless networks, all while productivity is increased.
Studies such as this prove that DR can be more efficient than CR, while it is becoming easier to make the switch. The maturity of the DR market is still growing, and as this continues, expect more to switch from CR to DR.
In an article for Radiology Today published in 2014, I stated:
"Expect to see continued growth in DR. Both the systems and software are not only becoming more versatile, but prices are coming down. Meanwhile, people are waking up to the benefits of its productivity, improved image quality, and dose reduction. Those elements drive the trend."
The radiology field has known about the benefits of DR, and as adoption continues to grow each year, research such as what was published in the Hong Kong study provides further evidence to facilities about making the switch.
The fact remains that many facilities cannot make the conversion from CR to DR immediately, so it often happens piece by piece. For example, Carestream offers the ability to combine the DRX-Ascend and Vita Flex CR System to replace a film based X-ray room with digital imaging. Then, when the time comes to go to DR, the Vita Flex CR can be replaced with an Ascend DR upgrade to create a fully integrated digital X-ray room.
In the end, facilities must be able to weigh the benefits of DR technology against whether it is financially feasible. DR is continuing to be adopted by health providers around the world, and this growth is expected to continue as the technology advances and prices decrease as the DR market matures.
Helen Titus is Carestream's worldwide marketing director for X-ray solutions and Ultrasound.