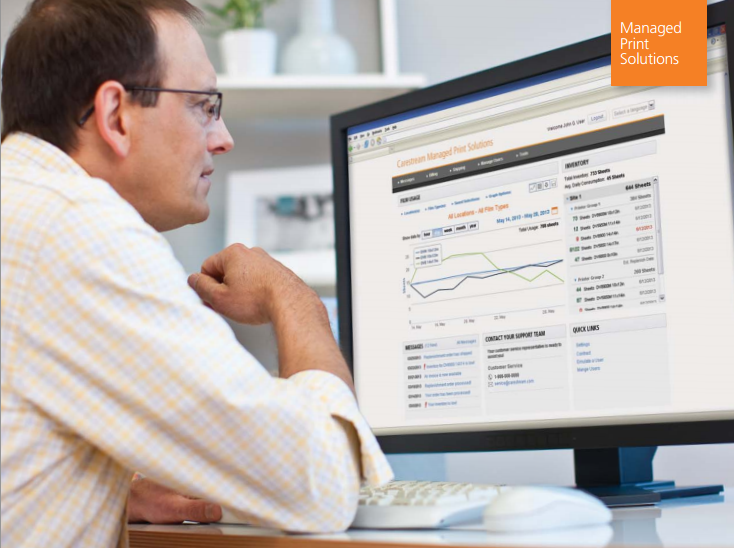 Managed Print Solutions: Helping Radiologists Focus on Patients
Reading Time: 3 minutes read
As a radiologist, your goal is to provide fast, accurate diagnoses in support of early treatment and positive patient outcomes. Anything that distracts you can be troublesome – such as ordering film and other supplies, tracking inventory, managing film and supply budgets, dealing with downtime and coordinating service and repairs.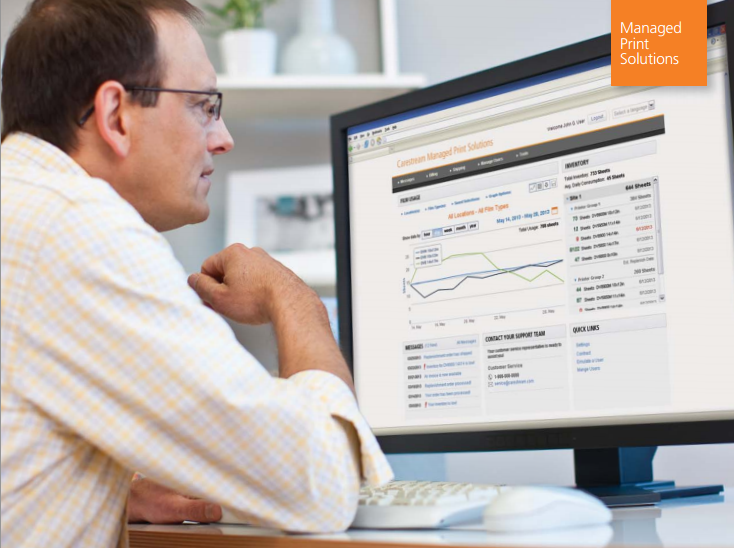 An Advanced Solution
An effective solution for print management would track a facility's laser-imaging film usage, remotely monitor inventory and automatically ship new film as needed.  The solution would supply hardware as well as consumables, eliminate capital outlay, save time, and allow consistent.
The bottom line?  Radiologists and their staff are free to focus their energy on providing superior care.  Best of all, the right print management solution can benefit everyone in the facility – from radiologists to rad technologists to the radiology manager, from procurement personnel to finance executives.
Significant Cost-Savings
Managed Print Solutions can help to achieve a lower cost of operation over time. Your price per print includes a laser imager, film, shipping and service.  This eliminates costly expedited shipments, unplanned costs for service requests and staff hours spent on repetitive PO generation.  It can also prevent unplanned expenditures for service requests and other critical parts replacements.
An Easy-To-Use Web Portal Can Simplify Management
An intuitive, properly designed exclusive web portal can eliminate surprises and the administrative overhead of managing film usage, inventory tracking, procurement and billing. For this portal to be effective and used efficiently, tracking equipment, film usage data by printer, size, or location information should be displayed on a dashboard accessible at any time, from anywhere.  The web portal should also allow you to reference contract and billing statements, inventory records and film shipment status – all the information you need to make informed business decisions.
Patient Privacy
More today than ever before, patient privacy and network security are critical issues.  To maintain privacy and secure communications, MPS vendors must employ globally accepted internet security protocols. Only trained and properly credentialed support specialists should be permitted to connect with your printer. An audit trail of printer access and activity must be maintained, and the latest, most advanced virus protection should always be in place.
Carestream has recently introduced CARESTREAM Managed Print Solutions (MPS), a print-management program in which we take responsibility for virtually everything – to save you valuable time and boost productivity.  Following a thorough analysis of your printing infrastructure, Carestream will present you with a strategic print-management plan.
How has MPS helped facilities achieve improved productivity and cost savings?
"Everything has become extremely simple and accessible to all our staff. I would definitely recommend this service to others involved in healthcare."
– Dr. Pascal Hauet, Partner Radiologist, Paris Radiology Office of Dr. Hauet and Dr. Lunel, Paris, France
Read the full testimonial, Passionate about New Technologies
"I recommend MPS to all radiologists, whether they have their own printer or not. "
– Gregorio Mayor, of Mayor Gallego Radiological Clinic, Spain
Read the full testimonial, New Print Management System Eliminates Worries for Manager of Radiology Centers
"We are on track to save 20% a year with MPS and we have the added convenience of having one company to call. Our radiologists and physicians are also very pleased with the image quality."
– Lee Gemmill, RT, (R), MR, The Community Open MRI Group, Indiana, USA
Read the full testimonial, The Community Open MRI Group's Imaging Centers Save Time and Money with CARESTREAM Managed Print Solutions
"We are on track to save $10,000 a year in staff time. We have also improved our cash flow because we are not ordering film that is sitting on a shelf for weeks or possibly longer."
– Martin Cox – COO Southern Radiology Group, Sydney, Australia
Read the full Testimonial,   CARESTREAM Managed Print Solutions Saves Time and Money for Southern Radiology Imaging Centres
You can visit our website for additional information on CARESTREAM Managed Print Solutions or you can watch this MPS video demonstration.
Abel Espinosa is Carestream's  worldwide product manager for CARESTREAM Managed Print Solutions.