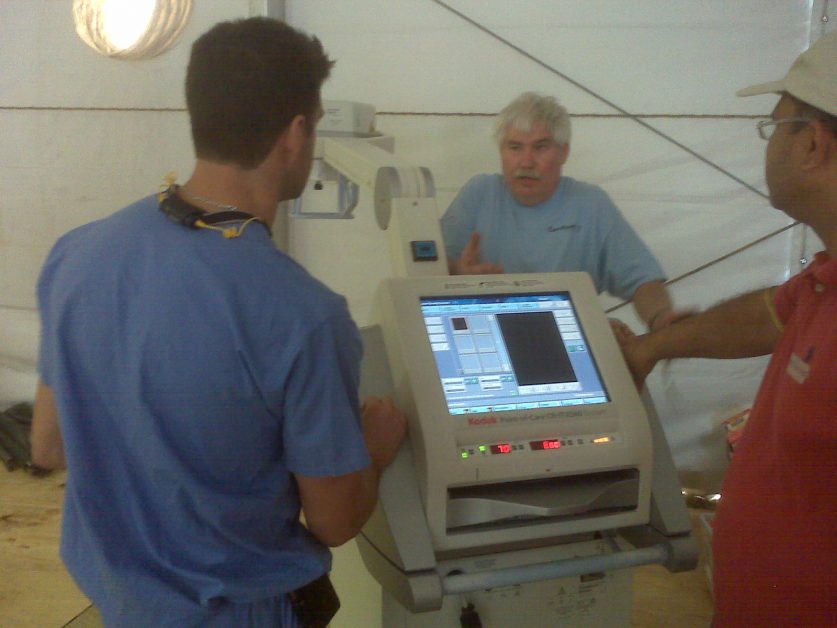 United in our desire to help, any small way we can
Reading Time: 2 minutes read
Medical imaging trade articles like this one, from Imaging Technology News, and countless other stories like it, give us a small glimmer of hope for the situation in Haiti. While it's difficult to find anything remotely positive about the devastation and loss of life, we are inspired by the way our industry, and those in the radiology profession, are reaching out and providing equipment and care for those in need.
Numerous medical imaging companies have donated equipment and/or cash to support the massive relief efforts. We were extremely fortunate to have had one of our service engineers, Jack Williams, volunteer to travel to Haiti with our mobile x-ray solution. On Friday of last week, Jack landed in Haiti with our Point-of-Care CR-ITX 560 System, which provides instant digital images for the local urgent care center. We had tremendous success using a similar piece of equipment after the tragic earthquake in Chengdu, China.
The system is up and running at a temporary hospital established under tents at the airport. We're also sending medical x-ray film, chemistry and cassettes to a hospital in Port-au-Prince, Centre Hospitalier du Sacre-Coeur/CDTI, where they were almost out of film as of this past weekend. And we plan to send additional x-ray film to Justinian Hospital at Cap Haitien, in the north portion of the country, outside the earthquake zone, which has been overwhelmed with casualties.
Given the enormity of this disaster, our efforts are just one small component of a much-needed and comprehensive response that in the months ahead will extend beyond relief into rebuilding. While many of us feel helpless, we can take pride in how so many individuals and groups are responding with grace and compassion.
And, of course, we can all help by considering a donation to an organization like the American Red Cross.
– Kelly McCormick-Sullivan, Human Resources, Carestream Health
Editor's Note: AuntMinnie.com has also posted a very informative article about a University of Virginia radiologist who is currently in the field supporting the relief effort in Haiti.