Carestream DRX Revolution Nano Mobile X-ray System Designed By Micro-X Ltd Wins 2018 Good Design Award
Prestigious Honour for Design Innovation in Australia
MELBOURNE, AUSTRALIA, May, 18—The Carestream DRX Revolution Nano Mobile X-ray System, designed by Micro-X Ltd, received the Good Design Award® Best in Class in Product Design which is one of the highest honours for design innovation in Australia.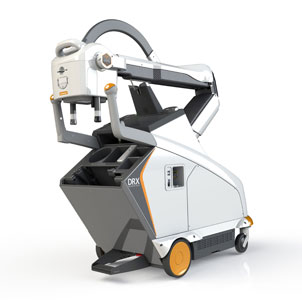 The annual Good Design Awards are based on market success, excellence in architectural design, digital and communication design, business model innovation, social impact and design entrepreneurship. Dating back to 1958, the annual Good Design Awards are Australia's most prestigious awards for design and innovation.
Rob Williams, X-ray Systems Business Manager for Australia and New Zealand, received the award on behalf of Carestream at the Sydney Opera House at the 60th annual Good Design Awards ceremony along with key MicroX staff. "To receive this recognition for design innovation is an important validation of the significant research and development that went into our DRX Revolution Nano Mobile X-ray System. It is even more exciting will be having the DRX Revolution Nano manufactured here in Australia and exported to the world."
The DRX Revolution Nano Mobile X-ray System utilises Carbon Nano Tube technology to deliver significantly reduced size and weight when compared to existing mobile X-ray systems. The ultra lightweight design allows for easier positioning in cramped critical care areas such as the ICU and NICU. "And this system's affordability allows providers to dedicate a portable X-ray unit to busy critical care areas," said Charlie Hicks, Carestream's General Manager for Global X-ray Solutions.
The Good Design Awards Jury commented that "The design and engineering team has tackled a healthcare problem with an innovative and ground-breaking solution - rather than bringing a patient to the equipment, the equipment is brought to the patient. Simple idea but extremely difficult to execute. The end result is a revolutionary product where the benefits are huge: smaller footprint, lighter weight and maneuverability saving space in hospitals, aiding patient comfort and providing greater flexibility around mobile and field hospital solutions. Every element and touch point has been meticulously designed and detailed. The articulated arm is well balanced over the range of motions required and the large aperture for taking the x-ray images is easy to move around and lock in place. This is a brilliant design solution with a very high standard of manufacturing and carefully considered raw materials selection. Good design and innovation at its best."
The DRX Revolution Nano Mobile X-ray System is scheduled for availability in Australia in the third quarter of 2018. It is currently available in the United States and Canada, and will be available in other countries as international regulatory approvals are completed.