CARESTREAM HEALTH
HERITAGE.
When you think of the world's first packaged x-ray film; the world's first medical dry laser imager; the world's first wireless DR detector, you probably don't think of the name Carestream. But you should.
That's who we are—a world leader in medical imaging for more than 100 years.

CARESTREAM HEALTH
INNOVATION.
We create inventive, elegantly simple solutions that offer radiology imaging and informatics professionals a smarter way forward.
Digital solutions that evolve with you. Simple.

CARESTREAM HEALTH
FOCUS. COMMITMENT
Technology alone does not maximize your productivity gains, your return and support—after the sale is complete.
A partner who cares as much as you do. That's Carestream.
Carestream Businesses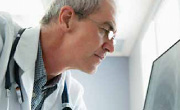 Find the right solution for your business
Choose your healthcare facility type to find the right Carestream solution for your organization's needs.