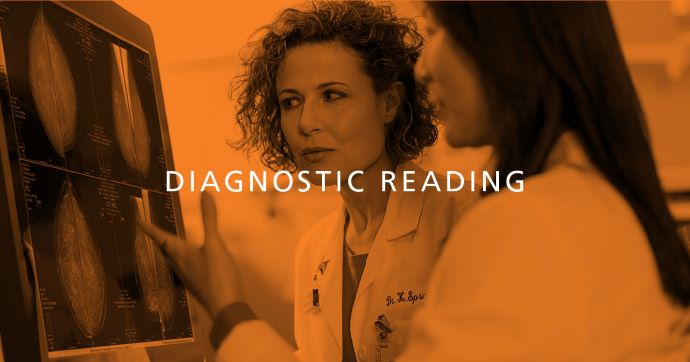 Diagnostic Reading #4: Five "Must Read" Articles on Medical Imaging
Reading Time: 3 minutes read
In the news: lung ultrasound could help determine COVID-19 outcome.
This week's articles in Diagnostic Reading include: lung ultrasound may predict COVID outcome; MRI-guided biopsy assesses chemo treatment; new global radiology training program; whole-body MRI better detects bone cancer; and how new legislation affects radiology.
While some COVID-19 diagnoses can result in severe pneumonia or even death, and other patients remain asymptomatic, a new diagnostic tool may help physicians predict if a patient with COVID-19 will worsen. Researchers in Italy have developed a method using ultrasound imaging to score a patient's lung health, which is indicative of their outcome. The ability to predict when a patient might worsen can help physicians be better prepared for patient care.
For patients with breast cancer receiving neoadjuvant therapy, MRI-guided breast biopsy could be a good way to evaluate how well they are responding to the treatment, according to findings from a study published in JAMA Network Open. Researchers detailed how they used MRI-guided breast biopsy to correctly assess almost all patients post-chemotherapy, and the outcome indicates that this strategy could give patients and providers an option other than surgical resection, they claimed.
A new educational course spearheaded by the Australian-based charity Radiology Across Borders (RAB) promises to improve patient access to imaging services worldwide. The International Certificate in Radiology Fundamentals (ICRF), a one-year online program, is set to launch in February 2021 to allow health professionals to learn the basics of X-ray, ultrasound and CT in order to perform and read exams. Aimed predominantly at those in the developing world or remote areas, it will focus on safety and interpreting common pathologies such as pneumonia, bleeds, trauma, meningitis, bone tumors and emergency conditions.
Whole-body MRI can detect more cases of debilitating bone cancer than PET/CT and initiate earlier treatment for such patients, according to a study in the European Journal of Nuclear Medicine and Molecular Imaging. King's College London researchers tested both imaging modalities' ability to detect myeloma in 46 patients. Overall, whole-body MRI proved more sensitive at spotting the disease and altered patient management in 24% of cases.

The Consolidated Appropriations Act, 2021 (CAA) is a sweeping piece of legislation that provides relief to individuals and businesses impacted by COVID-19. Some of the relief provisions apply to all businesses, including medical practices, but the legislation also contains several measures that specifically apply to radiology. This article provides details about how the CAA will affect radiology practices.
#diagnosticreading