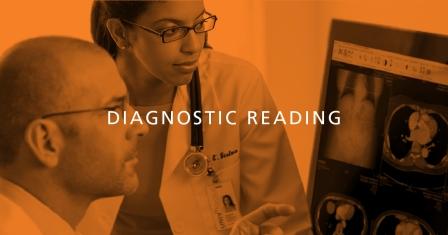 Diagnostic Reading #25: Five "Must Read" Articles on Medical Imaging
Reading Time: 3 minutes read
A look at radiology post COVID is in the news.
This week's articles in Diagnostic Reading include: a look at post-pandemic radiology; COVID-19 recovery and future uncertainty; pandemic creates an increase in informatics; mixed results for the radiology job market; and CT scans show asymptomatic COVID carriers with lung injury.
The crisis after the crisis: the time is now to prepare your radiology department – JACR
As the next wave of the COVID-19 pandemic begins, it is likely to present as much uncertainty as the initial phase, particularly for smaller groups, industry leaders say. The American College of Radiology's (ACR) Commission on General, Small, Emergency and/or Rural Practice offered perspectives on what the coming weeks could bring—as well as how lessons learned from the past few months can carry over.
COVID-19: early signs of recovery, but uncertainty ahead – AuntMinnie
The global COVID-19 pandemic has created an unprecedented shock to medical imaging and healthcare markets. Therefore—with varying lockdown restrictions, healthcare funding models, purchasing cycles, etc.—predicting the rate of recovery is complicated. This article offers views on key trends, identifiable risks and the uncertainty that lies ahead.
Pandemic leads to surge of interest in informatics – AuntMinnie Europe
The COVID-19 pandemic has led to a sudden increase in data sharing, multicenter image data collection, online data annotation, deep learning and the building of large repositories, according to an informatics expert, who calls for more consideration of these topics in radiology training. In the radiology learning curricula, there's a strong need to include more training sessions about imaging informatics, particularly artificial intelligence (AI), he added. Read how the Hospital of UP uses imaging informatics to improve patient care in radiology.
Top residents see bright future for radiology job market, but women remain underrepresented – Health Imaging
Chief residents of radiology programs across North America see a promising future for the imaging job market, a notable departure from previous negative perceptions, according to survey results published in Academic Radiology. However, the survey's authors found that women remain vastly underrepresented in radiology. "Future surveys and efforts should address potential strategies to increase women and minority representation in radiology," they added.

CT scans show lung injury in asymptomatic carriers of COVID-19 – Axis Imaging News
A high percentage of people infected by the virus behind the ongoing deadly COVID-19 pandemic—up to 45%—may never show symptoms of the disease, according to a paper published in Annals of Internal Medicine. The study's authors conclude that the absence of symptoms may not imply an absence of harm. CT scans conducted on 54% of 76 asymptomatic individuals from a cruise ship appear to show significant subclinical lung abnormalities. This paper also suggests that asymptomatic infections may have played a significant role in the early and ongoing spread of COVID-19.
#diagnosticreading #covid19