X-ray Room Equipment: Evaluation and Planning
Reading Time: 5 minutes read
North Colorado Medical Center shares process and tips for installing ceiling mounted X-ray systems.
Rafael Hernandez is the Medical Imaging Senior Manager at North Colorado Medical Center in Greeley, Colorado. DOTmed HealthCare Business News recently interviewed him about the facility's updates to their X-ray room equipment, and the evaluation process behind their purchase.
HCB News: When did you introduce ceiling mounted X-ray systems to your facility and why was that decision made?
Rafael Hernandez: We have had ceiling mounted X-ray systems in two rooms in our ER for years. A year ago, we replaced those units with a Carestream DRX-Evolution Plus to further enhance image quality and productivity.
HCB News: Can you walk me through the process of selecting an X-ray room system and having it installed? Who was involved in the decision-making process and how long did it take?
RH: We wanted to update the imaging systems in both X-ray rooms in our ER. We already had Carestream DRX-Revolution Mobile Imaging Systems. After consulting with staff about their needs, we decided to install Carestream DRX-Evolution Plus imaging systems. Our evaluation and purchase decision took seven months.
We appreciate the platform's image quality. In addition, having a consistent user interface for our X-ray mobile and room-based imaging systems enhances productivity and ease of use. We also have the same imaging systems at two additional affiliated hospitals. This enables us to move technologists from one hospital to another without the need for additional training.
Having the same supplier also facilitates any service issue that might need to be resolved.
We installed the DRX-Evolution Plus medical imaging system with a fully automated table and a wall stand. We use this system to image patients who are seriously ill or injured and require cross-table exams as well as chest x-rays and long-length imaging exams. In our second trauma room, we installed another DRX-Evolution Plus with a wall stand. It allows us to image patients on stretchers without moving the patients to a table.
HCB News: What tips do you have for imaging facilities planning installs of ceiling mounted X-ray systems to make sure the process goes smoothly?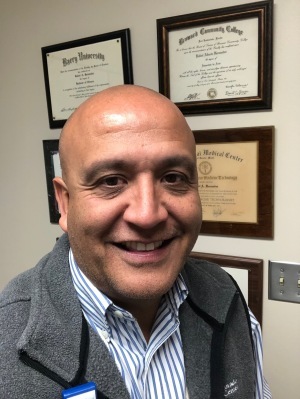 RH: Our fully automated DRX-Evolution Plus allows our technologists to use remote control capabilities to expedite the imaging process. The excellent support we received from the manufacturer minimized the need for my involvement. They trained 30 technologists and accommodated our need for training on the morning, afternoon and graveyard shifts. None of the trainers left until every question had been answered. The support was outstanding.
HCB News: What are some of workflow advantages of ceiling mounted imaging systems?
RH: Ceiling mounted imaging systems allow flexible positioning for patient imaging and equip technologists to position patients who may be severely injured or in pain.
HCB News: Is there anything else about ceiling mounted systems you think is important to radiology managers?
RH: We have two Carestream rooms that are configured differently but they share the same user interface, which allows us to rotate technologists into both rooms. We also move technologists within the health system to cover vacations and other staffing needs.
Our affiliated hospitals include North Colorado Medical Center in Greeley; Mc Kee Medical Center in Loveland; and Banner Fort Collins Medical Center in Fort Collins, Colorado.
We have 'super users' who received additional training and can modify protocols. Carestream's staff went above and beyond to provide training for technologists on all three shifts. They made sure we were proficient and happy with each system before they left.
This interview is re-published on Everything Rad with the permission of DOTmed Healthcare Business News.
#xrayroomequipment #medicalimagingequipment #xrayroomdesign
Learn More about X-Ray Room Equipment Planning: