Precision Multilayer Coating and Manufacturing Capabilities
Carestream's precision, multilayer coating operations provide efficient scale-up from product development to commercial scale, including technology development collaboration, fluid and coating engineering for manufacturing, and process design and implementation. Backed by exceptional Lean Six Sigma manufacturing practices, our engineers apply deep knowledge and unique analytical capabilities to identify and develop optimal coating solutions to meet partnership requirements, with planning, logistics, finance and purchasing competencies available.
Carestream multilayer coating and process development capabilities include:
Precision, Multilayer Coating
Technologies:
Single and simultaneous multilayer coating
Slide (cascade) and curtain multilayer coating
Slot die, dual slot die, roll, gravure, knife, etc.
Proprietary techniques
Solutions and Slurries:
Aqueous
Solvent (MEK, IPA, NMP, Acetone, Toluene, Methanol, Heptane, and many other solvents)
Substrates:
Film
Paper
Foil
Non-wovens
Substrate Thickness:
Substrate Widths:
Line Speeds:
* Capabilities are dependent upon which coating asset is utilized
Pilot and Production Coating and Development
Pilot Capabilities:
Widths from 100 to 300 mm, speeds from 1 to 60 mpm
High-efficiency multi-zone drying up to 190° C
Production Capabilities:
Widths from 600 to 1,470 mm, speeds from 15 to 150 mpm
Two coating stations – one or both sides
1 to 8 layers in single pass
3 to 6 zones drying up to 150° C and 425 m of drying path
Pilot and Production Capabilities:
Solvent and aqueous solutions
Temperature-controlled solutions and coating
CDT, web cleaning, UV curing, lamination
100% optical inspection to 25 micron resolution
Real-time process control and feedback and analysis
Variety of coating technologies (slot die, slide, curtain, gravure, etc.)
Highly uniform < 2% to 5% thickness variability
Class 100 clean room capable coating and web path
Slitting capabilities
Solution Making and Delivery
Solution Making:
Stainless steel mix tanks
Capacities of 175 to 6,500 L plus portable pilot tanks
Nitrogen inerted and jacketed with heating and cooling
Variable speed agitation with multiple blade types
Particle dispersion via multiple high-shear options
Bulk solvent storage and DI water generation
Recipe control and robust standard work
Distributive control system with data historization
Solution Delivery:
In-line mixing and filtering
Closed-loop mass flow control
Variety of pumping options
De-bubbling
Process verification (T, P, flow rate, level control, etc.)
Overhead lines with filtration direct from solution making
Pails, drums or totes at the coating station for small-volume experiments and production
Quality and Analytical Testing 
On-Line Inspection and Instrumentation:
On-line scanning capabilities to inspect coatings, both in reflection and transmission
Full scanner implementation on pilot coater to support development
Fully instrumented pilot and production processes with high-speed data acquisition and historization
Test Equipment:
Optical Microscopy
Scanning Electron Microscope (with EDX)
Atomic Force Microscopy (AFM)
High-Performance Liquid Chromatograph
X-Ray Fluorescence Spectrometers
Gas Chromatograph with Mass Spectrometer
Thermogravimetric Analysis – Fourier Transform Infrared Spectrometer (TGA-FTIR)
Optical Profilometry
Inductively Coupled Plasma Spectrometer
Dynamic Scanning Calorimetry
Dynamic Mechanical Analysis
Ultra-Violet / Visible Spectrometers
Microtrac Particle Size Analyzer
Microtome
Titrations
Test Properties:
Thickness / Uniformity / Coat weight
Viscosity / Density / % Solids / Surface tension
Cosmetics (streaks, point defects, etc.)
Peel force / Adhesion
Retained solvents
Porosity / Density
Particle size
Roughness
Contact angle
Moisture analysis
Conductivity / Resistivity
Converting and Packaging
Converting:
Film and paper converting
Roll and sheet converting capabilities
Web inspection available
Experience with a variety of support types and thicknesses
Controlled atmosphere conditions
Safe lighting available
Fully automated to manual range of automation
Customized to customer requirements
Packaging and Shipping:
Experience with a large variety of packaging requirements
Variety of formats including bag, cartridge, box, sleeve and case
Expertise in domestic and international shipping; including full loads, LTL and ocean containers
Worldwide regional locations near your customers
Rapid Prototyping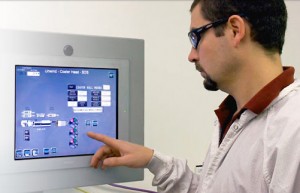 Carestream's highly flexible coating assets, combined with our experienced technical and business teams, enable rapid material and product screening, small product sample coating and testing, and efficient scale-up to pilot and production coating equipment. We work with our partners to quickly adjust formulation and coating conditions for low-cost, small-run and experimental multilayer coating projects.
Ability to generate precision-coated prototype samples up to six feet long using only a few grams of solution.
Provides small-scale, roll-to-roll coating for up to 12-inch wide films, foils, paper and membranes, for larger prototype quantity requirements.
Contains custom mixing, solution delivery, coating, drying and analytical equipment used for small-scale, early-stage product and process development.
Ability to predict how a given coating solution and substrate system will behave in various manufacturing operations before scaling up to larger pilot-scale and manufacturing-scale equipment.
Pilot Coating:
Proprietary coating techniques, enhanced drying methods and streamlined solution delivery systems.
Ability to simultaneously use multiple coating techniques at our different locations to enhance collaboration, execute rapid prototyping and scale-up projects, and troubleshoot issues.
Pilot coaters modeled after larger coaters to ensure seamless transfers to full-scale manufacturability.
Production Coating:
Enables mass production of commercial products at minimal cost and reduced time-to-market for customers coating advanced material solutions onto flexible substrates.