ROCHESTER, N.Y., March 6 — Bellin Health Titletown Sports Medicine & Orthopedics (Green Bay, Wis.) installed a CARESTREAM OnSight 3D Extremity System (video) at its facility next to Lambeau Field, home of the NFL's Green Bay Packers. The OnSight system delivers high-resolution 3D images with advanced anatomical detail that can help orthopaedic specialists make more accurate diagnostic and treatment decisions. This system will be demonstrated at the American Academy of Orthopaedic Surgeons annual meeting (Booth #5023) being held March 12-16.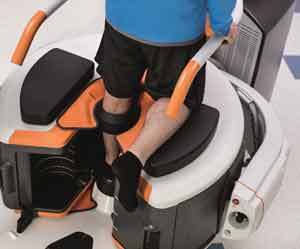 "This technology offers the ability to perform weight-bearing foot, ankle and knee exams, which provides better biomechanical insight into the condition of the joint and allows for more precise diagnostic evaluation and preoperative planning," said orthopaedic surgeon Dr. Robert Anderson, Director of Foot & Ankle at Bellin Health Titletown and Associate Team Physician for the Green Bay Packers.
"In addition, the system can rotate into a vertical plane to allow scanning of the hand, wrist and elbow that delivers enhanced positioning and greater image quality than standard CT scanners, while offering a significantly reduced radiation dose," added Dr. Anderson. "Access to more detailed information enhances our diagnostic decisions and can help expedite our patients' healing process."
The OnSight system also can be used for non-weight bearing images of lower extremities. The CT scanner is equipped with Carestream's second-generation metal artifact reduction software that can improve visibility of patient anatomy near metallic objects, and reduce the halo effect and other artifacts that may appear in the image.
The ability to view metal screws, plates, nails and other hardware helps orthopaedic specialists optimize their diagnostic and treatment decisions. Both the original image and corrected image are always available to view and compare.
Carestream's OnSight 3D Extremity system uses a large-area detector that captures a 3D extremity image in a single rotation, which takes only 25 seconds. The radiation dose is significantly reduced because only the affected body part is imaged. And since the patient's head and body are not confined, patients do not experience the claustrophobia that often occurs with traditional CT systems. The compact extremity system can be installed in an exam room and plugs into a standard wall outlet. The Carestream OnSight 3D Extremity system is available in the United States, Europe and other countries.
###
About Bellin Health Titletown Sports Medicine & Orthopedics
Bellin Health Titletown Sports Medicine & Orthopedics offers a new, state-of-the-art treatment and rehabilitation center that is located adjacent to Lambeau Field. The practice is the official healthcare partner of the NFL's Green Bay Packers. For more information please visit www.bellin.org.