ROCHESTER, N.Y., Oct. 24 — Critical access hospital Kirby Medical Center in Monticello, Ill., will care for more patients by offering fluoroscopy technology, enabling a broad array of high-quality imaging exams through the CARESTREAM DRX-Excel Plus System (see video link).
The hospital, which serves communities in and around Monticello, purchased the DRX-Excel Plus to provide easy access to a suite of imaging services.
"We are a critical access hospital in a rural community, and we strive to keep many important healthcare services within our community. It is very important that our patients can stay close to home for their healthcare needs," said Jaime West, Director of Imaging at Kirby Medical Center. "Several imaging exams had to be referred to other facilities before, so adding this technology at Kirby is a wonderful addition to the department."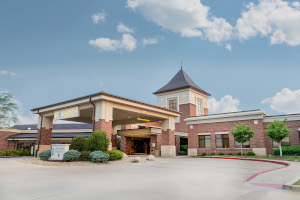 A two-in-one system, the DRX-Excel Plus combines both fluoroscopy and general radiology capabilities in one compact unit. As a result, a medical facility can perform contrast exams using fluoroscopy that can be associated with a radiography image, in addition to specialized contrast procedures that record both fluoroscopy and radiography sequences and interventional procedures. Its fluoroscopy technology is optimized specifically for large and mid-size hospitals as well as healthcare facilities like Kirby Medical Center.
The DRX-Excel Plus System delivers accelerated workflow, high-resolution images and an extensive range of diagnostic imaging exams, from chest X-rays and barium swallows (see video link) to knee arthrograms. At Kirby Medical Center, the DRX-Excel Plus will reside in the center's Imaging Department.
"Soon we will be able to provide an additional general radiography room and add fluoroscopy services to our community. This will allow our hospital to perform a wide variety of exams and reduce wait times for our patients," Ms. West said.
Ergonomically designed, the unit features a positioning pedal that allows the operator to have their hands free, which is especially helpful for interventional procedures. The built-in relaxing ambient lighting and selectable music feature allow patients to undergo an exam in a low-stress environment. This focus on patient comfort and user productivity was a plus for Kirby Medical Center, in addition to the system's imaging capabilities.
"We felt that Carestream offered the best technology for our facility and working with them made it very easy," Ms. West said. "Also, our radiology group liked the look and functionality of the Carestream equipment."
Kirby Medical Center plans to go live with the DRX-Excel Plus System in January 2020.
###
About Kirby Medical Center
Kirby Medical Center is an independent, not-for-profit corporation located in Monticello, Illinois. Since 1941, Kirby has been serving the healthcare needs of Piatt County and is committed and proud to provide quality and compassionate healthcare services to all people in need. From an award-winning emergency care team to advanced 24-hour diagnostic imaging, 24-hour laboratory services, surgery, family and specialty medicine, plus a wide-variety of outpatient rehabilitation services, Kirby Medical Center believes that access to advanced care should be affordable and convenient, locally, to all they serve. For more information, visit www.kirbyhealth.org.