ROCHESTER, N.Y., Dec. 17 — Piedmont Rockdale Hospital (Conyers, Ga.), a healthcare provider with a Level III Neonatal Intensive Care Unit (NICU), has realized efficiencies and ease of workflow with the agility and affordability of Carestream's DRX-Revolution Nano Mobile X-ray System.
"Having a large and high-census Neonatal Intensive Care Unit, we wanted a device that the neonatologists could utilize in the unit in real time," said David Owen, Director of Imaging Services at Piedmont Rockdale Hospital. "So, if they're doing a line placement for example, then an image is available to the neonatologist right away."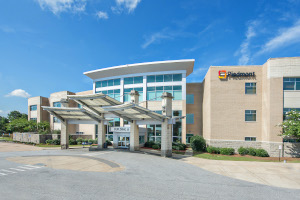 At only 220 pounds, the CARESTREAM DRX-Revolution Nano Mobile X-ray System has a compact footprint that allows for easy positioning in critical care units, like the NICU at Piedmont Rockdale. A mobile system, the DRX- Revolution Nano provides high image quality and convenient digital radiography imaging for patients in small rooms, the Intensive Care Unit (ICU) or the NICU. The DRX-Revolution Nano is ideal for portable chest, intensive care, orthopaedic and pediatric imaging. The portable, nonmotorized X-ray system uses Carbon Nano Tube technology and features an ultra-lightweight design for easy maneuverability and arm positioning.
"Because of its size and price point we thought it would be perfect for us to replace an aged unit," Mr. Owen said. "To have a piece of equipment that is so versatile, that we can get in and out of isolated areas—with all the equipment around the babies—and still be able to take it out of the unit and use it on the floor, was a very attractive feature to us. As a director of the department, the price is very important to me also."
Though Piedmont Rockdale purchased the DRX-Revolution Nano as a replacement for another unit in the NICU, the system has served as a reliable backup when other equipment fails. The 138-bed hospital has used the DRX-Revolution Nano to service other floors as well.
"In one building is our NICU, ICU and one of our patient floors," said Mr. Owen. "We're able to utilize the Nano to cover that entire nursing floor, NICU and ICU if our full-size portable doesn't work—and we've had to do that a few times."
In fact, when the DRX-Revolution Nano first reached Piedmont Rockdale, the system was used as a full-service portable unit. "It was used in the ICU and on patient floors as well as in the NICU," Mr. Owen said. "Our backup plan on Day 1 actually became our main plan."
Piedmont Rockdale, which houses a full-service imaging department, is known for having the only Level III NICU on the east side of Atlanta. The hospital delivered 1,712 babies in fiscal 2019. Placing the DRX-Revolution Nano within the NICU was a decision that came after careful planning.
"It's not just Carestream's digital technology, but also the ability of the unit to adjust the levels of radiation used for images," Mr. Owen added. "It allows us to use lower dose on these very sensitive children."
###
About Piedmont Healthcare
A private, not-for-profit organization with nearly 660 locations serving nearly 2 million patients across Georgia, Piedmont is transforming healthcare, creating a destination known for the best clinicians and a one-of-a-kind experience that always puts patients first. Today, more than 110 years since it was founded, Piedmont is known as a leading health system in treatment of heart disease, organ transplantation and cancer care with 11 hospitals, 27 urgent care centers, 28 Piedmont QuickCare locations, 555 Piedmont Clinic physician practice locations and more than 2,300 Piedmont Clinic members. In May 2019, Piedmont became Great Place to Work-Certified™ and in June 2019 was named by Forbes as one of the Top 10 Employers in Georgia. Our 23,000-plus employees dedicate themselves to making a positive difference in every life we touch and our commitment doesn't stop there. In FY 2019, Piedmont provided $268 million in uncompensated care community benefit programming in an effort to better the health and well-being of the people in the communities we serve. For more information, visit www.piedmont.org.