Dewsbury and District Hospital Chooses Carestream for its Latest Digital X-Ray Room
HEMEL HEMPSTEAD, May 30—Dewsbury and District Hospital in Mid-Yorkshire has selected the CARESTREAM DRX Evolution Plus for its latest digital x-ray room, citing the high number of patient and staff benefits offered by the system as key among the reasons for its choice.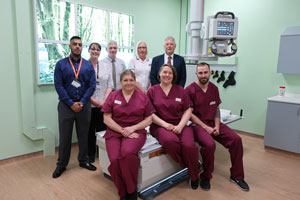 Pictured L-R Back Row: Shweb Rahman, Carestream Applications Specialist; Gemma Hemingway, Patient Services Manager; David Johnstone, Installation Project Manager; Sue Barker, X-Ray Team Lead; Jonathan Atkinson, Carestream Key Account Manager. Pictured L-R Front Row: Anne Carpenter, Advanced Practitioner; Liam Walmsley, Radiographer; Emily Lewis, Senior Radiographer
One of three hospitals in the Mid-Yorkshire Hospitals NHS Trust, Dewsbury and District Hospital offers a range of medical, rehabilitation and surgical services. Staff need continuous access to the latest digital x-ray technology to support these. During the procurement process for its new x-ray room, the Hospital found Carestream's DRX Evolution Plus solution met its requirements most closely.
Offering key software and hardware advantages, the DRX Evolution Plus X-Ray Room uses Carestream's wireless, cassette-sized DRX Plus Detector and EVP Plus image-processing software to deliver superb image quality, easily and cost-effectively. The single-detector platform works across a broad portfolio of DRX equipment, letting customers build a system that suits their facility and budget, working across the facility's imaging systems to help drive efficiency and ongoing performance improvement. With a wide range of vertical and horizontal movement, a higher weight-capacity table, enhanced paediatric capabilities and an extended tube-column range, the physical equipment brings benefits too. It can be operated manually or fully automated—Dewsbury and District Hospital staff were attracted by the auto-positioning and faster processing times to increase throughput and efficiency without detriment to image quality. Patient experience has improved, as the time to complete complex medical imaging exams has been reduced.
"As a department we are pleased with the equipment we have procured, as it allows us to enable a better patient experience, using better technology and improved image quality" says Sue Barker, X-ray Team Lead.