ROCHESTER, N.Y., Nov. 6 — Renaissance Imaging Medical Associates (RIMA) of Northridge, Calif., one of the 10 largest private radiology groups in the United States, has chosen Carestream's Workflow Orchestrator (video) to manage its multi-site radiology interpretation workflow. Based on early results, RIMA radiologists expect Workflow Orchestrator to produce long-term operational and quality improvements as well as more responsive client service, optimal case assignment and a significant return on investment.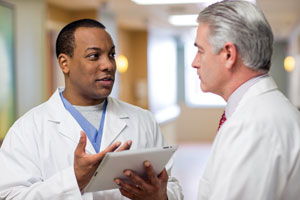 Workflow Orchestrator (PDF) automatically assigns studies to the most appropriate available radiologist while efficiently balancing caseloads to accelerate reading times. Within two months of implementation at RIMA, Workflow Orchestrator had increased the number of cases read within the service level agreement (SLA) deadlines by 15 percent, while assigning 82 percent of cases to a subspecialist highly qualified to read each specific case type.
RIMA's experience illustrates the challenges and opportunities that many imaging services providers face today. Healthcare enterprises and radiology groups have been rapidly consolidating to achieve economies of scale and more efficiently address new regulatory and reimbursement requirements.
As radiology cases become more specialized and complex, one important goal of consolidation is to tap into the expertise of subspecialists at many locations, including service providers such as RIMA. But with studies performed at multiple locations, and radiologists interpreting studies from multiple sites, optimizing workflows for timely reporting without sacrificing quality presents a major challenge.
Carestream's Workflow Orchestrator manages the selection and assignment of cases to individual reporting radiologists across multiple locations. As part of the Clinical Collaboration Platform (video), Workflow Orchestrator uses an intelligent engine to balance four competing requirements:
Prioritization: Cases that are urgent or approaching their SLA deadline have priority
Expertise: Cases requiring subspecialty expertise are selectively assigned to an appropriately trained radiologist
Relationships: Cases are preferentially assigned to radiologists affiliated with the site where the study was performed; and
Load balancing: Cases are distributed equally among radiologists.
Automatic application of these protocols can improve the accuracy of case assignment, report quality and the overall efficiency of caseload processing. These claims have been verified in the results RIMA has achieved since its implementation of Workflow Orchestrator.
Carestream will be demonstrating its Workflow Orchestrator (video) at the 2018 meeting of the Radiological Society of North America being held November 25-30.