Weight-Bearing CT International Study Group Hosts Scientific Session at AOFAS Conference
Orthopaedic Surgeons Discuss Benefits of Extremity CT Imaging At Carestream Booth #407
ROCHESTER, N.Y., June 12 —The Weight-Bearing CT International Study Group will host a scientific session on the benefits of weight-bearing extremity CT exams on Thursday, July 12, from 5:00-6:30 p.m. in Room 310 of the Hynes Convention Center in Boston, Mass. This session is being held in conjunction with the American Orthopaedic Foot & Ankle Society (AOFAS) conference and is jointly sponsored by Carestream, CurveBeam and Planmed. Attendees can register for the scientific session at www.wbctstudygroup.com.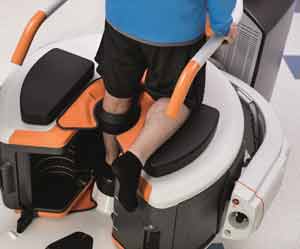 The study group promotes dialogue and collaboration on weight-bearing CT research initiatives. Orthopaedic specialists from five healthcare institutions representing the United States, Canada, Italy and France will speak at the session. Group members are working to create standardized protocols for measurements and analysis.
"With weight-bearing CT, the orthopaedic surgeon can feel much more confident with the quality of bone healing in the patients. And, generally speaking, WBCT allows the surgeon to have a much better idea of what to expect during the surgery itself," according to an article entitled "Weight-bearing CT scans: A new era for foot and ankle surgery."
High-quality, weight-bearing imaging studies have the potential to dramatically improve diagnosis and treatment of a wide range of injuries and conditions of the foot, ankle and other extremities including arthritis, meniscus loss and instability that affect biomechanical behavior.
"Carestream's OnSight 3D Extremity System is one of the most exciting innovations in extremity imaging in the last 20 years," according to Dr. Lew Schon, an orthopaedic surgeon who is fellowship trained in foot and ankle reconstruction. "This system displays fine detail in the morphology of bone density and alignment, while providing visualization of soft tissue such as ligaments and tendons. And since the CT scan is weight-bearing, it provides additional details that aid in diagnosis and treatment decisions."
Dr. Schon notes that being able to capture images and conduct a patient consultation in an initial office visit is an important advance in patient care.
"Patients want to know how badly they are injured, what the treatment plan is and how soon they can return to work. This extremity imaging system provides orthopaedic specialists with the data needed to answer these important questions, which helps patients feel comfortable with their treatment and recovery plan," he said.
Dr. Schon will discuss his experience with the OnSight 3D Extremity System (video) as part of an Extremity CT Speaker Series at Carestream's Booth #407. Presentations will be given Thursday, July 12, from 4:00-5:00 p.m. and Friday, July 13, from 1:00-2:00 p.m.
###
About the American Orthopaedic Foot & Ankle Society
The American Orthopaedic Foot & Ankle Society was founded in 1969 and is a medical specialty society comprised of more than 2,200 orthopaedic surgeons from the U.S. and abroad who specialize in the care of patients with injuries, diseases and other conditions of the foot and ankle. For more information please visit www.aofas.org.