VCU Health Taps Carestream for 18 Digital X-ray Systems
ROCHESTER, N.Y., Sept. 26 — Radiology staff at VCU Medical Center, the comprehensive care center of VCU Health located in downtown Richmond, Va., perform approximately 160,000 imaging procedures a year with six CARESTREAM DRX-Evolution Systems (video), nine CARESTREAM DRX-Revolution Mobile X-ray Systems, and three room-based imaging systems that have been converted to DR with CARESTREAM DRX-1 in-room retrofits and the company's DRX detectors.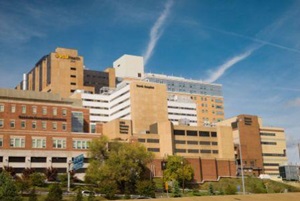 These imaging systems allow rapid access to patient images by VCU Medical Center's orthopaedic, pediatric, trauma, musculoskeletal and ER specialists as well as other physicians.
Each DRX-Evolution imaging system contains an automated wall stand, a four-way floating table and is equipped with two DRX wireless detectors. Wireless detectors are easily pulled from the table Bucky and used for tabletop, cross-table, and other orthopaedic exams. Automated long-length imaging software provides the ability to automatically align and stitch vertebral and long-bone images together.
With nine DRX-Revolution mobile systems, VCU Medical Center's technologists can quickly deploy the portable units throughout the ED, OR suites, inpatient units, and other areas within the radiology department. The facility installed Carestream DRX-1 in-room retrofits on three existing imaging systems that are located in the pediatric ED and Nelson Clinic. Each retrofitted room has two DRX wireless detectors that can be used in the wall stand and table.
The healthcare system is currently converting its existing gadolinium detectors to cesium iodide detectors that deliver better image quality and lower patient dose.
###
About VCU Health
With a legacy of leading health care for more than 175 years, VCU Health is constantly pushing the limits of what's possible in medicine and health to provide the most comprehensive, safest and highest quality care. VCU Health is home to the region's only academic medical center and Level I trauma center. From the five health sciences schools to Children's Hospital of Richmond at VCU to VCU Massey Cancer Center, VCU Health develops the knowledge, the people, the process and the medicine to make healthy happen for the community and beyond. U.S. News and World Report ranked the VCU Medical Center the No. 1 hospital in Virginia for 2015-16, reflecting three programs — nephrology, orthopedics, and cardiology and heart surgery — in the top 50. For more, see vcuhealth.org .