ROCHESTER, N.Y., April 24 — Carestream Health is now shipping an upgraded version of its Clinical Collaboration Platform that is designed to both expedite and enhance radiology reporting workflow.
The platform features a new rule-based Workflow Orchestrator (video) that first directs imaging exams to the most appropriate radiologists based on priority, subspecialty, relationships and availability. As desired turnaround times get close, the studies are exposed to a broader group of available radiologists to satisfy service-level agreements. The Orchestrator's workload balancing also helps ensure prompt delivery of reports to referring physicians.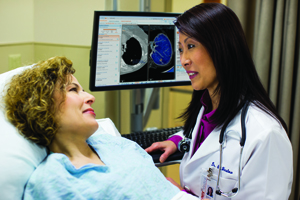 "We have created a next-generation workflow for reading imaging studies that boosts productivity and responsiveness," said Neville Skudowitz, Carestream's Global Director, Commercialization and Strategic Development for Healthcare Information Solutions. "This intelligent solution enhances the quality of the report by having exams read by the right radiologist as dictated by their qualifications and areas of expertise."
Diagnostic imaging studies can also be assigned to specific radiologists according to their relationship with the referring physician or affiliations with hospitals or healthcare facilities where the exams were performed.
The Clinical Collaboration Platform offers new integrated chat and live screen sharing that encourage collaboration among physicians, radiologists and other stakeholders that make sure expert advice is immediately available.
"Delivering a higher level of service can help radiology groups develop stronger relationships with healthcare providers, which can increase their business and ultimately help enhance patient care," said Mr. Skudowitz.
Carestream's quality module offers comprehensive management reports for peer review, while the communication module enhances collaboration through use of chat capabilities, alerts and screen sharing for radiologists, technologists, physicians and other stakeholders.
Carestream's KLAS award-winning Vue Motion enterprise viewer allows referring physicians to securely view a patient's imaging exam and supporting data on any Web-enabled PC or mobile device. Physicians can discuss the patient's condition with radiologists if desired.
The company's new Integrated Report Analytics module enables discovery of unstructured textual medical information that can unlock valuable insights for quality reporting, education and training.
The platform offers comprehensive report search capabilities using natural language processing (NLP), coupled with ontology-based searching, metadata filtering and sorting. Its search engine, delivered seamlessly through the Clinical Collaboration Platform, adds significant value to the daily clinical, educational, research, and administrative activities of radiologists.