Carestream Offers Advanced Second-Generation Metal Artifact Reduction Software for Its OnSight 3D Extremity System
ROCHESTER, N.Y., Sept. 6 — Carestream Health has started shipping a new version of software for its CARESTREAM OnSight 3D Extremity System (video) that offers new standard features as well as optional enhanced metal artifact reduction software that can improve visibility of anatomy around metallic objects. Carestream's OnSight 3D Extremity System uses a large-area detector that captures a 3D extremity image in a single rotation that takes only 25 seconds.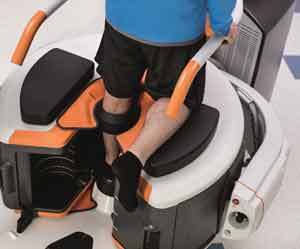 The latest version of Carestream's image viewing software is designed to increase workflow efficiency, enhance volumetric post-processing compatibility with PACS, fulfill NEMA XR-29 standards compliance and offer new features for users in hospitals, imaging centers and orthopaedic clinics. This software is free of charge for current customers and will be installed on new OnSight 3D extremity systems.
"Our second generation of CMAR 2 metal artifact reduction software can improve visibility of patient anatomy near metallic objects and reduce the halo effect and other artifacts that may appear in the image. This helps orthopaedic specialists optimize their diagnostic and treatment decisions," said Helen Titus, Carestream's Business Segment Manager, Cone Beam CT.
The software makes it easier to view metal screws, plates, nails and other hardware. Both the original image and corrected image are always available to view and compare. A user selects a "moderate" or "complex" metal setting so Carestream's image processing software can deliver an optimized view based on metal content. Metal artifact reduction can be activated prior to the scan or after the original reconstruction is complete.
Carestream also offers Administrative Analysis & Reporting Software as an optional software module that provides a digital dashboard for administrators and practice managers. Users can export information such as: exam types; minimum, maximum and average dose; reasons for rejected exams and other data into an easy-to-use spreadsheet. Managers can use this information for quality control and technologist training.
Dose is significantly reduced because only the affected body part is imaged. And since the patient's head and body are not confined, patients do not experience the claustrophobia that often occurs with traditional CT systems. The compact extremity system can be installed in an exam room and plugs into a standard wall outlet.
The Carestream OnSight 3D Extremity System is available in the United States, Europe and other countries.