ROCHESTER, N.Y., Oct. 9 — Asante Ashland Community Hospital (Ashland, Ore.) purchased a CARESTREAM DRX-Evolution (video), CARESTREAM DRX-Excel Plus, CARESTREAM DRX-Ascend System and CARESTREAM DRX-Revolution Mobile X-ray System to expedite image access, enhance image quality and lower patient dose. The hospital also upgraded an existing portable system to DR with a CARESTREAM DRX-1 System.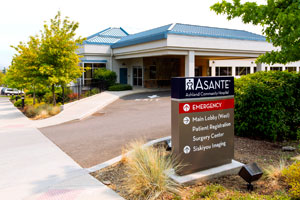 "Carestream imaging systems help our staff consistently deliver the highest quality images at the lowest possible dose. And the ability to use any DRX Plus detector in any DRX imaging system also delivers added flexibility," said Garrett Crowl, the hospital's Imaging/Respiratory/Therapy/Cardiopulmonary Manager.
The DRX-Evolution serves the hospital's busy outpatient services department and performs chest, extremity, abdomen, pelvis, cross table, orthopaedic exams and standing foot and ankle exams. It is equipped with a CARESTREAM DRX Plus 3543 detector in the wall stand and a second DRX Plus 3543 detector for table and tabletop use.
A Carestream DRX-Ascend system in the ED captures a wide range of trauma exams while a DRX-Revolution provides portable imaging for ED and surgical patients as well as inpatients.
The DRX-Ascend system is equipped with a wall stand and table and is used to capture a wide range of imaging studies including extremity, chest, abdomen, pelvic, upper GI and other exams.
The hospital is currently installing a CARESTREAM DRX-Excel Plus System with a large-format detector for radiography and fluoroscopy imaging. "This system is designed to expedite the image capture process for barium exams, swallowing studies, abdomen exams, fluoroscopy imaging series and other specialty exams," Mr. Crowl explains.
The hospital standardized on CARESTREAM DRX Plus detectors because they combine reliable performance with excellent image quality, according to Mr. Crowl. "Having the same user interface for our room and portable imaging systems optimizes productivity and ease of use for radiographers," he reports.
Carestream's Administrative Analysis software allows monitoring of imaging settings as well as technologists' reject rates and provides an analysis of each rejected exam. "This software enables us to work with technologists to improve the quality of care we deliver. Our goal is to maintain consistently high-quality images while minimizing radiation dose," said Mr. Crowl.
Carestream service and support capabilities also include proactive monitoring of all DRX detectors to classify the severity of the drop and alert users to contact Carestream if a detector is not producing acceptable image quality or has any type of performance issue.
###
About Asante Ashland Community Hospital
Asante Ashland Community Hospital is a modern care center serving the greater Ashland, Oregon area. This not-for-profit hospital provides excellent general medical and surgical services and is a member of the Asante network. The hospital offers modern diagnostic and surgery centers featuring some of the latest technologies, including state-of-the-art imaging equipment, computers, laboratory tools and respiratory/cardiopulmonary testing. It also offers convenient outpatient services. The hospital is a member of the largest healthcare network in Southern Oregon—providing even more options for people who need medical care. For more information visit www.asante.org.