North Carolina Medical Center's Automated DR Room, R/F System Can Enhance Productivity, Patient Comfort
Flexible Image Capture Settings Help Optimize Visualization of Bones, Soft Tissue, Other Areas of Interest
ROCHESTER, N.Y., May 8 — Catawba Valley Medical Center (Hickory, N.C.) purchased a fully featured CARESTREAM DRX-Evolution Plus system (video) with two CARESTREAM DRX Plus detectors for its main radiology room and a CARESTREAM DRX-Excel Plus radiology/fluoroscopy system for its offsite imaging center. Both systems offer automated positioning, advanced features, ease of use and excellent image quality.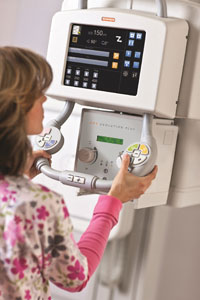 A DRX-Evolution Plus system in the radiology department serves spine and joint surgeons, pediatric specialists and other physicians who request imaging exams to help with diagnosis and treatment for advanced spine and extremity procedures as well as other orthopaedic conditions.
"The DRX-Evolution Plus system equips our staff to efficiently capture extremely high-quality extremity, cross-table, chest, abdomen and spine images. And we can quickly and easily remove detectors to image patients who are in beds or wheelchairs," said Michael Greene, the medical center's Administrator of Diagnostic Services. "The DRX-Evolution Plus system is designed to enhance productivity while ensuring patient comfort."
"Our radiologists are extremely pleased with the diagnostic image quality as well as the ability to adjust imaging settings to optimize visualization of bones, soft tissue and specific areas of the body," Mr. Greene adds.
The system's autotracking feature moves the X-ray tube into position to help reduce fatigue and repetitive stress injuries for technologists. The tables for both the DRX-Evolution Plus system and DRX-Excel Plus system can be lowered to a height of about 19-21 inches. "Being able to lower the table greatly reduces the risk of a fall while positioning fragile or elderly patients and also reduces the chance of injury to our technologists," he explains.
The DRX-Excel Plus system performs chest, extremity and spine exams as well as fluoroscopy studies. "The image quality is outstanding, and we have been able to significantly reduce radiation exposure settings with this new system. Our radiologists are extremely pleased with the system's controls and ease of use," said Mr. Greene.
The medical center also retrofitted its dedicated portable imaging system in the NICU with a CARESTREAM DRX 2530C detector, which fits into incubators and produces extremely high- quality images of these fragile patients. The neonatologists are pleased with improved resolution offered by the cesium iodide detector and the ability to view bedside images just a few minutes after they are captured.
Mr. Greene cited Carestream's service record as an important benefit to investing in the company's imaging systems. "We have used Carestream DR systems for more than 15 years and their outstanding service and support is an important reason we chose to install additional Carestream systems. The company has always addressed any service issue promptly and their team has exceeded our expectations."