New Technology at Illinois Hospital Enhances Diagnostic Image Quality for Patient Exams
Carestream Digital Radiography Systems Also Help Reduce Risk of Repetitive Stress Injuries for Staff
ROCHESTER, N.Y., Aug. 14 — The new $300 million HSHS St. Elizabeth's Hospital and Health Center (O'Fallon, Ill.) purchased three CARESTREAM DRX-Evolution Plus Systems (video) and three CARESTREAM DRX-Revolution Mobile X-ray Systems to provide high-quality medical imaging to patients throughout the facility.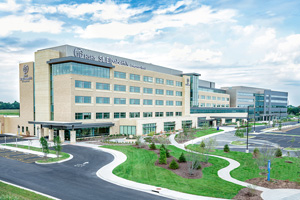 The DRX-Evolution Plus systems expedite image capture with automated positioning and advanced features while providing ease of use and excellent image quality.
"Our DRX-Evolution Plus systems provide extremely high-quality diagnostic images that are required for orthopaedic, cross-table, chest, spine and other imaging studies," said Rhonda Beare, the hospital's Radiology Facilitator. "The system's design also enables us to capture weight-bearing images and complex cross-table exams that our specialists require for diagnostic and treatment decisions."
These advanced systems serve spine and joint surgeons, pediatric specialists and other physicians who request long-length, scoliosis and other X-ray exams to diagnose and treat advanced spine and extremity problems as well as other orthopaedic conditions.
Each exam room is equipped with two CARESTREAM DRX Plus 3543C detectors that deliver enhanced image quality. Carestream's auto-stitching software can join up to five images to produce long-length images. The DRX-Evolution Plus table has a four-way floating top and lowers to a height of about 21 inches, which is helpful for imaging ill or injured patients.
In addition, the DRX-Evolution Plus system's autotracking feature moves the X-ray tube into position to help reduce fatigue and repetitive stress injuries for technologists.
The hospital also implemented three CARESTREAM DRX-Revolution X-ray systems that capture portable imaging exams throughout the facility. Technologists report that these systems are easy to drive and position for bedside diagnostic imaging procedures. Each mobile system is equipped with a CARESTREAM DRX Plus 3543C detector and a small-format CARESTREAM DRX 2530C detector that is ideal for imaging extremities, children and infants.
Carestream DRX detectors can be used with any DRX system to help deliver flexibility and productivity.
###
About HSHS St. Elizabeth Hospital
The new $300 million HSHS St. Elizabeth's Hospital and Health Center (O'Fallon, Ill.) opened in November of 2017 as one of the most technologically advanced medical centers in the region.
The hospital is a member of Hospital Sisters Health System (HSHS). The hospital's goal is to create a healing environment that combines technology and efficiencies to provide region leading, high-quality care. In this new state-of-the-art facility, staff members will provide advanced services in surgery, medical imaging, laboratory, the emergency department and other areas. The hospital offers private rooms, efficiently designed clinical areas that allow nurses to spend more time with patients at the bedside and deluxe amenities offered in the Women and Infants Center. For more information please visit www.steliz.org.