ROCHESTER, N.Y., Oct. 31 — Gila Regional Medical Center (Silver City, N.M.) recently implemented Carestream Health's Clinical Collaboration Platform (video) that features enterprise imaging, 3D viewing, lesion management, vendor-neutral archiving, multimedia reporting, analytics and its CARESTREAM Vue Motion enterprise viewer as part of a managed service.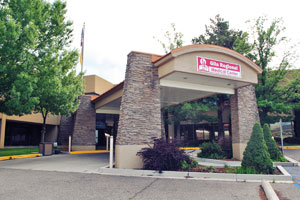 "After evaluating image management and storage platforms for two years we selected Carestream's offering because it delivers advanced features and ongoing upgrades at an affordable price. The managed service model also provides predictable expenses, which is an attractive offer for hospitals of all sizes," said Rob Holguin, PACS/RIS Administrator, Gila Regional Medical Center.
"Carestream's project management team provided a smooth transition and the data transfer was flawless. We are extremely pleased with our decision," Mr. Holguin added.
The hospital's Clinical Collaboration Platform equips radiologists to read multiple modalities from a single workstation. The radiologists' reading worklist is color coded so they can easily prioritize STAT reads over high-priority or routine exams.
This modular platform includes onsite vendor-neutral archiving that delivers highly secure and reliable storage for all clinical data, along with cloud-based archiving to ensure continuous access. The multi-year contract includes regular upgrades and 24-hour service and support.
The hospital's Vue Motion enterprise viewer offers physicians convenient access to patients' images and reports, and is FDA approved for clinical reading. "Rapid access to reports and key images allows referring physicians to enhance and expedite treatment decisions," said Mr. Holguin. "We plan to send videos and EKG information in the future and this platform supports that functionality."
Carestream's Clinical Collaboration Platform delivers standards-based data capture, management, archiving and distribution for imaging data across the healthcare enterprise. The platform's Unified Core is the backbone that enables enterprise imaging and associates all data for each patient with a single patient record. This imaging data can be easily integrated within a healthcare facility's EMR/EHR.
###
About Gila Regional Medical Center
Gila Regional Medical Center (Silver City, N.M.) is a county-owned, not-for-profit, 68-bed acute care hospital. Gila Regional has a strong commitment to the people they serve. Investments in technology and certified caregivers provide quality care delivery through a patient-centered approach. It is home to the Cancer Center and the Surgical Center of the Southwest. The hospital earned a four-star rating that includes evaluation of 57 quality measures from the Centers for Medicare & Medicaid Services. For more information please visit www.grmc.org.