KLAS PACS Report Rates Carestream Health A Top Performer
More Than 90 Percent of Carestream Vue PACS Users Would Purchase From Carestream Again, According to Report
ROCHESTER, N.Y., Jan. 10 — Carestream Health's Radiology PACS module of the Clinical Collaboration Platform (video) was rated as a top performer in the KLAS PACS 2017 Report by hospitals of all sizes. More than 90 percent of hospitals with Carestream PACS said they would buy it again and noted that Carestream is part of their long-term plans.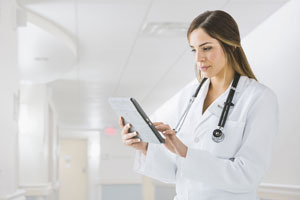 The report spotlights Carestream's "highly regarded technology" as a key differentiator, while its Radiology PACS module of the Clinical Collaboration Platform earned high marks for ease of use and product quality as well as overall customer satisfaction. A user quoted in the report states that "Carestream has a plan for the future of our organization, and they are always able to answer questions…and frequently solicit our opinions about what would be helpful in future versions."
KLAS has a longstanding reputation for accurately and impartially measuring vendor performance. KLAS reports represent the combined opinions of healthcare organizations and compare how vendors, products, and/or services performed when measured against the participant's objectives and expectations.
Ludovic D'Aprea, Carestream's Global General Manager for Healthcare Information Solutions, notes that the company's Radiology PACS module is an integral part of Carestream's Clinical Collaboration Platform. The platform provides a common backend that drives much higher productivity than individual components.
"Our customers are seeing real advantages in their daily use of our systems, which is why they gave Carestream high marks for ease of use and product quality as well as overall customer satisfaction," said Mr. D'Aprea.
Carestream continues to expand its platform and plans to introduce the Workflow Orchestrator module in the first quarter of 2018. Instead of radiologists spending time looking for what exam to read next, each exam will be sent to the most appropriate radiologist. This workflow maximizes the probability that exams are read according to the right priority, the right subspecialty and the best relationship within the defined service level agreement.
Mr. D'Aprea adds that the company's Radiology PACS users in multi-site environments will benefit from the Workflow Orchestrator's ability to offer a real-time global view of any study acquired in the enterprise.
###
About KLAS
KLAS has been providing accurate, honest and impartial insights for the healthcare IT (HIT) industry since 1996. The KLAS mission is to improve the world's healthcare by amplifying the voice of providers and payers. The scope of our research is constantly expanding to best fit market needs as technology becomes increasingly sophisticated. KLAS finds the hard-to-get HIT data by building strong relationships with our payer and provider friends in the industry. To learn more about KLAS and our reports, visit www.KLASresearch.com.