ROCHESTER, N.Y., May 22 — Grand Lake Health System (St. Marys, Ohio) recently purchased two CARESTREAM DRX-Revolution Mobile X-ray Systems and upgraded five X-ray rooms with CARESTREAM DRX-1 Systems, CARESTREAM DRX Plus (video) and DRX Core Detectors to convert all of Grand Lake Health System's radiographic imaging to digital radiography.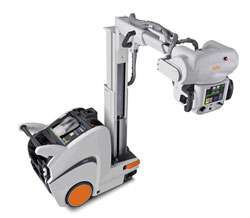 These imaging upgrades were installed at Joint Township District Memorial Hospital and three outpatient physicians' offices. "DR technology offers lower radiation dose, improved image quality and quicker access to images, which can lead to improved patient care and outcomes," said Denise Pugh, Medical Imaging Manager, Joint Township District Memorial Hospital.
"After evaluating several suppliers we selected Carestream systems because they offer image quality, ease of use, excellent service and overall performance," said Ms. Pugh. "The conversion took less than three days. Our technologists quickly became proficient with the new systems and our physicians are extremely pleased with both the image quality and speed of access."
Carestream DRX Plus detectors are installed in both portable and room-based systems at the hospital to deliver high-resolution images. Two DRX-Revolution mobile X-ray systems capture images in the ER, ICU and surgical suite and are used for inpatient exams.
"I can capture patient exams in a more timely manner and images are available in seconds with the new DRX-Revolution portable systems. This expedites the delivery of diagnostic information to our physicians so they can provide responsive care to our patients," said Diane Gayer, R.T. (R), Radiologic Technologist.
Two hospital X-ray rooms along with three outpatient imaging sites also were upgraded to DR, which expedites capture of chest, extremity, spine and other diagnostic imaging studies.
"Since our technologists work at the hospital and our outpatient centers, having the same user interface is an important advantage that enables us to be productive while reducing radiation dose," according to Ms. Pugh.
###
About Grand Lake Health System
The anchor facility of Grand Lake Health System—Joint Township District Memorial Hospital—is a full-service comprehensive care facility in St. Marys, Ohio. The hospital has earned quality and excellence awards from national ratings organizations. The health system includes hospitals, an urgent care facility, family practice offices and other facilities in St. Marys, Celina, Wapakoneta and Minister, Ohio. For more information visit www.grandlakehealth.org.