Florida Hospital and Orthopaedic Clinic Upgrade to Innovative Digital X-ray Technology
Carestream Systems Deliver Rapid Image Access,Excellent Diagnostic Image Quality
ROCHESTER, N.Y., April 4 — Hendry Regional Medical Center (Clewiston, Fla.) installed a CARESTREAM DRX-Ascend System (video) and retrofitted three existing X-ray rooms and one portable imaging system with CARESTREAM DRX-1 Systems to complete its conversion to digital radiography.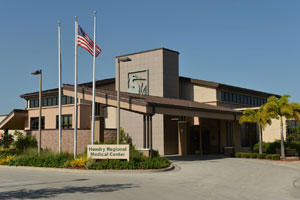 The hospital and its orthopaedic clinic upgraded to digital radiography to achieve improved image quality, lower radiation dose and offer physicians rapid access to patients' medical images.
"We conducted an evaluation as part of our transition to DR and selected the DRX-Ascend as our first room-based DR system," said Ed Chiarelli, Director of Imaging Services, Hendry Regional Medical Center.
"Our orthopaedic specialists and other physicians are extremely pleased with the image quality and speed of access offered by the system and we have found that Carestream has a well-deserved reputation for quality and service," said Mr. Chiarelli. "So when we began converting the rest of our imaging systems, we elected to use Carestream detectors."
DRX detectors are also installed in imaging systems that serve the general radiography department and a radiology/fluoroscopy room, as well as a rural satellite health clinic and a portable imaging system.
Mr. Chiarelli notes that the ability to use any DRX detector with any DRX imaging system is an important advantage. "We can pull a detector that is not being used from one system and deploy it in another area. This flexibility is especially helpful when our ER gets busy," he said.
###
About Hendry Regional Medical Center
Hendry Regional Medical Center has served the residents and visitors of Hendry, Glades and western Palm Beach Counties for over 65 years. Our critical access hospital incorporates modern technology with state-of-the-art medical staff to care for patients. In 2011, Hendry Regional Medical Center opened its a 37,000 square-foot Emergency Department, which encompasses an emergency room, surgery suite, imaging services, laboratory and outpatient services department. For more information, please visit www.hrmc.us.