Carestream Health Exhibiting Medical Imaging Products at ASMIRT
(15-18 March, Canberra)
Melbourne AU, 22
nd
Feb 2018 — Carestream Health will demonstrate its expanding portfolio of medical imaging products at the Australian Society of Medical Imaging and Radiation Therapy Conference (ASMIRT) in Canberra on the 15-18 March.
In keeping with the conference theme, care, communicate, collaborate, Carestream will display a range of products designed to speed diagnosis and enhance treatment of patients.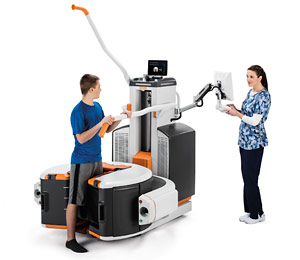 The Carestream booth (#2) will display a 1/3 scale model of the OnSight 3D Extremity System for extremity exams, including weight-bearing; DRX Transportable Lite, a wireless tablet; and a range of DR Detectors, offering a quick, easy and an affordable way to transition to digital radiography.
For more information on Carestream's growing portfolio of diagnostic imaging visit the Carestream booth (#2), or book a product demonstration.
Carestream's OnSight 3D Extremity System, which earned both the 2016 North American Frost & Sullivan Award for New Product Innovation and AuntMinnie's Best New Radiology Device award for 2016. This compact cone beam CT system offers high-quality, lower-dose 3D imaging technology for capturing weight-bearing and other types of patient extremity images.
Carestreams DRX Transportable System/Lite offers an affordable upgrade to DR. This solution now features wireless tablet operation. There's no bulky electronics box required, and no need to work from a fi­xed console. Instead, a lightweight wireless tablet gives you complete control of the system and displays your images once acquired. This allows you to move freely around the exam room, the entire radiology department or from suite to mobile units with ease.
Carestream's DR Detector portfolio offers quick, easy and an affordable way to transition to digital radiography. DR allows clinicians to view images in seconds, allowing physicians to immediately assess a patient's condition and begin appropriate treatment. Carestream provides a number of DR detector options; allowing you to select the right one for your facility. Right for Today. Ready for Tomorrow.
If you are attending ASMIRT 2018 book your demonstration by emailing
ANZinsidesales@carestream.com