ROCHESTER, N.Y., Nov. 13 — Carestream's latest generation of radiology reporting is taking an impressive step forward with the integration of multimedia content such as graphs, tables, images and hyperlinks. These elements add value to traditional reports while boosting productivity and collaboration among healthcare providers. Machine vision algorithms also enhance the reporting process and increase radiologists' efficiency by providing tools that can help detect, measure and diagnose abnormalities.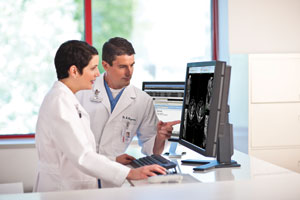 Carestream's enterprise imaging solutions, including CARESTREAM Vue Reporting, will be showcased at this year's Radiological Society of North America conference in South Hall, Booth #4705.
Multimedia reporting can facilitate collaboration among caregivers. Radiologists at the National Institutes of Health (NIH) Clinical Center (Bethesda, Md.) were early adopters of multimedia reporting. Tools for serial tumor measurement have reduced the time needed for NIH radiologists and oncologists to measure and compare tumor size and provide a higher level of standardization. Rapid access to clinically relevant information has boosted adoption of multimedia reporting, which now is used for 70 percent of CT reports and 50 percent of MR reports at the NIH Clinical Center.
University of Virginia (UVA) Health System recently evaluated the use of hyperlinks in more than 500,000 reports during a two-year study. "The use of hyperlinks is prevalent in MR, PET-CT and CT studies. We believe interactive multimedia reporting technology represents an important advance in delivering clinically relevant information that can directly impact patient care," said Dr. Cree Gaskin, Professor of Radiology, Associate Chief Medical Information Officer, Vice-Chair of Informatics for the Department of Radiology and Medical Imaging, Division Director of Musculoskeletal Imaging and Intervention for UVA Health System in Charlottesville, Va.
Carestream Vue Reporting Improves Efficiency
Vue Reporting improves physician efficiency and patient experience. This Clinical Collaboration Platform module (video) provides reading and reporting in a single workspace. It helps accelerate turnaround time with user-defined templates, structured reports and embedded voice recognition. Users may indicate key anatomical regions and findings with bookmarks and hyperlinks that clinicians and patients can easily navigate with the click of a mouse. Vue Reporting helps reduce costs and improve outcomes with one system that's easy to deploy and train across multi-site, multi-vendor environments.