Award-Winning Healthcare System Installs Carestream's Clinical Collaboration Platform to Enhance Its Image Management Workflow
Physicians Appreciate Rapid Access to Images and Reports Provided by an Enterprise Viewer
ROCHESTER, N.Y., Feb. 6 — Dickinson County Healthcare System (Iron Mountain, Mich.) — a recipient of multiple healthcare quality awards — implemented Carestream Health's Clinical Collaboration Platform (video) that features enterprise imaging, vendor-neutral archiving and Vue Motion enterprise viewer module. The Dickinson County system includes a community hospital and five satellite clinics.
"After evaluating several different PACS systems we selected Carestream because its fully featured platform is easy to use and offers the ability to read all modalities from a single workstation," said Sherry Koepp, the healthcare system's Manager of Imaging Services.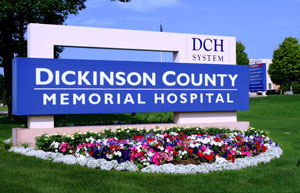 The hospital's Clinical Collaboration Platform supports lesion management, 3D tools, breast tomography, cardiac CT, breast MR and post processing. It also allows radiologists to read multiple modalities from a single workstation. The radiologists' reading worklist is color coded so they can easily prioritize STAT reads over high priority or routine exams.
Carestream's advanced features are part of a unified platform that includes vendor-neutral archiving (VNA). "Our original plan was to purchase a separate VNA but our Carestream healthcare IT specialist recommended that we expand our storage area network with Carestream's VNA software. This significantly reduces our cost without any sacrifice in performance or security," Ms. Koepp explains.
Both radiologists and physicians benefit from the platform's critical results notification capabilities. "Radiologists can contact physicians to discuss critical results and answer any questions, which is an important factor in optimizing patient care," reports David Alexa, the healthcare system's PACS Administrator.
The hospital also implemented Carestream's Vue Motion enterprise viewer, which offers convenient access to patients' images, videos, waveforms and reports from FDA-approved mobile devices.
"Our referring physicians appreciate the ability to view the report and key images on mobile devices. Our ENT, orthopaedic, pulmonary and other specialists use the viewer to aid in diagnosis and treatment for patients," said Mr. Alexa.
System administrators use Carestream's Vue Beyond to improve departmental workflow. This platform provides real-time monitoring of metrics that include study volume, modality mix, patient type and report turnaround time.
Carestream's Clinical Collaboration Platform delivers standards-based data capture, management, archiving and distribution for imaging data across the healthcare enterprise. The platform's unified core is the backbone that enables enterprise imaging and associates all data for each patient with a single patient record. This imaging data can be easily integrated within a healthcare facility's EMR/EHR.
###
About Dickinson County Healthcare System
Dickinson County Healthcare System (Iron Mountain, Michigan) earned Healthgrades' Patient Safety Excellence Award™ for 2015, 2016 and 2017. This award recognizes how well a hospital prevents infections, medical errors, and other complications based on 14 serious, potentially preventable adverse events. Patients receiving care at Patient Safety Excellence Award recipient hospitals have, on average, a lower risk of experiencing a patient safety event. The healthcare system was also recognized as a Top Performer on Key Quality Measures® by The Joint Commission, the leading accreditation agency of healthcare organizations in the United States. For more information please visit www.dchs.org.