World's First Onsight 3D Extremity System Officially Launched by Carestream Health and Cobalt Health
HEMEL HEMPSTEAD, October 2—Carestream Health and medical charity Cobalt Health have celebrated the official opening of the UK's first CARESTREAM OnSight 3D Extremity System installation at Cobalt's Imaging Centre in Cheltenham.The launch event gave former England rugby player and deputy Lord-Lieutenant of Gloucestershire Phil Vickery the chance to learn more about the new equipment, which will be of particular use to orthopaedic and sports medicine specialists. Dame Janet Trotter OBE DBE, the Lord-Lieutenant of Gloucestershire was also in attendance.
Cobalt has a history of assisting in the adoption of new services into the NHS by early investment in new technologies such as MRI and PET/CT. Its new CARESTREAM Onsight 3D Extremity System uses cone beam technology to capture pristine 2D and 3D images of patient extremities at the point-of-care. With a wide-opening door and easy, step-in patient access, it allows upper and weight-bearing lower extremity exams not possible with traditional CT. It also has a smaller footprint than conventional systems, meaning it can be installed in more practical locations. Patients can be examined easily, with minimal inconvenience and reduced exposure.
Speaking at the launch event, Peter Sharpe, Chief Executive, Cobalt said, 'We are very proud to be the first clinical site in the world to offer this exciting new technology. This will enhance the service we provide to our patients, and create opportunities to carry out new research projects.'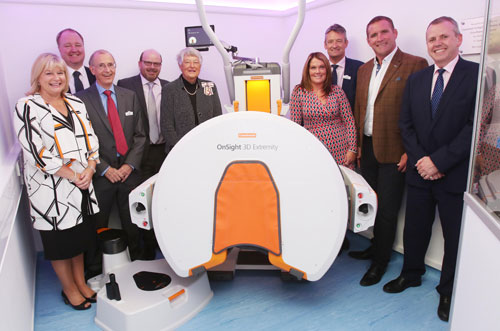 (L-R): Jane Grimsley, Marketing Manager, Carestream Health; Jason Barron, Sales Manager, Carestream Health; Peter Warry, Chairman of the Board of Trustees, Cobalt Health; Martin Stewart, Product Specialist, Carestream Health; Dame Janet Trotter OBE DBE, Lord-Lieutenant of Gloucestershire; Roisin Dobbin-Stacey, PET/CT Manager, Cobalt Health; Peter Sharpe, Chief Executive, Cobalt; Phil Vickery, former England rugby player and deputy Lord-Lieutenant of Gloucestershire; Charlie McCaffrey, Managing Director, Carestream Health
###
About Cobalt
Cobalt is a medical charity, which was established over 50 years ago, to help people affected by cancer, dementia and other conditions. Each year the Charity provide state-of- the-art diagnostic imaging for over 50,000 patients at Imaging Centres in Cheltenham and Birmingham and with a fleet of mobile Magnetic Resonance Imaging (MRI) scanners supporting hospitals throughout the UK. Cobalt also provides training and education on a local, national and international basis for doctors and other healthcare professionals. The Charity also funds and participates in research, including the provision of a dedicated MRI research facility on the campus of the Queen Elizabeth Hospital in Birmingham.