The Carle health system Purchases Four Digital Radiography Rooms to Improve Radiology Productivity, Image Quality
Carestream's Continued Investment to Expand, Upgrade Its Systems was Major Factor Along with Advanced Features
ROCHESTER, N.Y., April 25 — The Carle health system (Urbana, Ill.) purchased two CARESTREAM DRX-Evolution Plus (video) and two CARESTREAM DRX-Ascend systems for its regional care hospital in Urbana, Ill., as well as outpatient centers in Champaign, Urbana and Danville, Ill.
"The evaluation process included demonstrations and site visits from four potential suppliers. Our radiology managers and technologists selected Carestream's DRX systems because they marry advanced features that address our imaging needs with ease of use and excellent image quality," said Kelly Oppe, Imaging Director for Carle (Urbana, Ill.).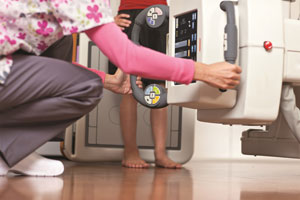 "Our team also sees evidence of Carestream's continuing investment in enhancing their software and hardware. We want to align with a supplier that is going to deliver new features and technologies that can further expand our imaging capabilities in the future," she said.
"Another important reason we chose Carestream is their ability to deliver multiple digital radiology solutions, from a portable system to standard or premium rooms or detector upgrades to existing systems," Oppe explains. "This creates an easy transition for technologists who are operating multiple X-ray systems at one location or multiple locations. It streamlines equipment management and delivers greater cost effectiveness."
A DRX-Evolution Plus system with two CARESTREAM DRX Plus 3543 detectors is installed in the Carle on Curtis outpatient center in Champaign, Ill., and a second DRX-Evolution Plus will be installed at the 393-bed Carle Foundation Hospital in Urbana, Ill., later this year.
Advanced Features Help Increase Radiology Productivity
"This advanced imaging system offers an extended tube column for enhanced flexibility and an autotracking feature that moves the X-ray tube into position to help reduce fatigue and repetitive stress injuries for technologists," according to Pattie McCord, the organization's Director of East Regional Imaging.
The DRX-Evolution Plus expedites capture of long-length imaging studies, orthopaedic and cross-table exams and is designed to accommodate advanced imaging applications in the future.
DRX-Ascend imaging systems are installed at two Carle outpatient clinics in Danville, Ill. Like the DRX-Evolution Plus, the DRX-Ascend offers an elevating float-top table and accommodates patients ranging from children to adults and patients who use wheelchairs. A rotating detector tray for both the table and wall stand allows for quick and controlled manual portrait/landscape rotation of the DRX detector without lifting it out of the tray.
"Both imaging platforms also offer a multi-color touch screen on the tube stand for generator control and image preview within the exam room, which boosts productivity and convenience for both patients and technologists," according to McCord.
Carestream DRX detectors can be used with any DRX system to help deliver flexibility and radiology productivity. Carestream's table also lowers to a height of about 21 inches, which is extremely helpful in imaging ill or injured patients.
###
About Carle Foundation
Based in Urbana, Illinois, The Carle Foundation is the not-for-profit parent company of an integrated system of hospitals, clinics, a 400-member physician group and health plan. Carle is consistently recognized for providing quality care to a population of 1.3 million people. The 393-bed Carle Foundation Hospital houses the region's only Level I Trauma Center with Primary Stroke Center Designation and offers Level III perinatal services. Carle is ranked as a Best Hospital by U.S. News and WorldReport and by HealthGrades as one of America's 100 Best Hospitals™. The hospital is among the top nationally for critical care, stroke, pulmonary and gastrointestinal care, having achieved Magnet® nursing status and Health Care's Most Wired™ awards.