Tennessee Hospital Installs Carestream's Clinical Collaboration Platform to Expedite Enterprise Viewing, Diagnostic Reading
Physicians Appreciate Rapid Access to Images and Reports Provided by a Universal Viewer
ROCHESTER, N.Y., Aug. 22 — Regional One Health (Memphis, Tenn.) has implemented Carestream Health's Clinical Collaboration Platform (video) that includes enterprise imaging, vendor-neutral archiving and Vue Motion universal viewer.
"We needed to upgrade our PACS and enhance our current enterprise viewer and vendor-neutral archive with a next-generation offering that delivers advanced radiology reading," said Keith Gilstrap, Regional One Health's Director of Clinical Applications.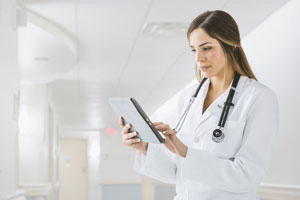 "Our new Carestream platform efficiently manages and stores our radiology imaging data. It also allows us to add cardiology and other types of imaging data in the future as we work to consolidate this data on a single platform," he explains. "We now support reading of breast tomosynthesis images and archiving as part of an integrated platform and we have a more productive workflow that eliminates silos of information, which are both costly and inefficient."
More than 200 physicians have access to patient data using the Vue Motion universal viewer, according to Gilstrap. "Secure access to imaging studies is available quickly and easily for onsite and offsite physicians. This viewer helps physicians make timely treatment decisions," he said.
The Vue Motion viewer offers convenient access to a patient's clinical history including images, videos, waveforms and reports from FDA-approved mobile devices.
Carestream's Clinical Collaboration Platform provides standards-based data capture, management, archiving and distribution for imaging data across the healthcare enterprise. The unified core is the backbone that enables enterprise-wide imaging and associates all the data for each patient with a single patient record. This imaging data can be easily integrated with a healthcare facility's EMR/EHR.
###
About Regional One Health
Regional Medical Center is an acute care hospital that provides comprehensive care to residents within 150 miles of Memphis, Tenn. It is anchored by Centers of Excellence including trauma, burn, neonatal intensive care and high-risk obstetrics and serves as one of the largest medical and surgical teaching sites for the University of Tennessee Health Science Center. Regional One also has six other locations for primary and outpatient care. For more information, visit
www.regionalonehealth.org